Please welcome author Romy Gemmell to the blog today with an interview and blurb of Midwinter Masquerade. Thanks for taking a break from NaNo to join us, Romy 🙂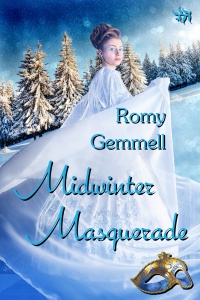 Many thanks for inviting me to your lovely blog, Lisa!
What inspired this story?
I love autumn and winter and have lived in Scotland all my life. Although I write in different genres and types of writing, I still have a great fondness for the Regency period. Since I also like some intrigue with the romance and history, I was keen to set a story around the winter solstice in my own country. It also takes the characters out of the usual setting of London and places them mainly in the heart of the Scottish countryside, although it begins in Edinburgh in 1816.
Do you have a favorite scene or character from the book?
One of my favourite scenes is the masquerade ball, as I can't think of anything more romantic in the middle of winter! But it also brings to the stage another character who is important to my heroine, Lenora, and the choices she must make. Then there is the unmasking of the real villain of the piece and revealing of family secrets. I also like the scene where the hero's niece, Annabelle, gets into her first scrape when climbing a tree.
Any chance of a sequel or a spin-off with one of the other characters?
My editor is very keen to read a sequel starring one of the male characters from this novel and I think he'd make an excellent hero in a completely different book, with the right kind of heroine for him!
What do you like best about being a writer?
I love the freedom to play with characters, and setting them in the best situation for their stories. Now that I've given up a day job, I appreciate the time and space to develop my writing and try new genres. It's great being able to write either at home or in a café occasionally and to attend a local writing group which meets during the day. But having a supportive husband is a huge advantage in not having to constantly worry about earning a higher wage.
If you get writer's block, what do you do to snap yourself out of it?
I've never had real writer's block because I tend to work on more than one project at a time! So if I'm getting stuck or bored with the current novel, for instance, I write a short story or article until I'm desperate to get back to the novel. Seems to work for me and perhaps the variety keeps the writing fresher. However, I sometimes think I should concentrate on one project at a time to give it my full attention.
What's one thing that's always on your desk?
Not on the actual desk, but near it – I need to have a stereo or CD Player as I love background music while I'm working. I try to match the type of music loosely to the period of the story or theme. For instance, I have a favourite Celtic music CD which I play whenever I'm writing a Scottish set story, and I choose classical music for my historical stories. I've even found some music can make me think of other ideas!
What's next for you?
I'm currently doing NaNoWriMo – with a change of genre, to a Victorian crime novel. At the same time, I'm finishing redrafting the second novella in my Aphrodite and Adonis series before submitting it to my publisher, and I want to finish the next MG novel. And there's always another short story or article waiting completion or redrafting!
Midwinter Masquerade Blurb
In Edinburgh, December 1816, young widow Lady Lenora Fitzallan accepts an invitation to the country estate of Edward Montgomery, the man she once thought to marry twenty years previously. Until he left without explanation. Accompanied by her godmother, Lady Pettigrew, Lenora forms a friendship with Edward's young niece and ward, Annabelle, who has a propensity for getting into scrapes and falling in love with the wrong man.
In the days leading up to the Masquerade Ball on the Winter Solstice, another guest arrives. Mr. Henderson has a particular reason for meeting Annabelle, who distrusts him on sight. Meanwhile, Lenora struggles with her rekindled feelings for Edward, while thinking of Robert Masters, the sophisticated man who hopes to marry her when he returns from abroad. As past secrets begin to unfold, Annabelle is rescued from harm, and a dashing, costumed stranger arrives at the Ball.
Once the past is revealed and the real villain unmasked, Lenora must decide where and with whom her future now lies.
Author Bio
Rosemary Gemmell's short stories and articles are published in UK magazines, in anthologies, in the US, and online and she has won several short story prizes. She lives in the beautiful west coast of Scotland and is now a published novelist for adults (as Romy) and Middle Grade/tweens (as Ros) with three different e-publishers. Her BA (hons) in literature and history and MA in Humanities are put to good use in reading and research for all types of writing. Midwinter Masquerade is her new Regency novel set in Scotland from Tirgearr Publishing.
Buy Links
Kindle Amazon US: http://www.amazon.com/Midwinter-Masquerade-Romy-Gemmell-ebook/dp/B00G4DNG7G
All e-formats: http://www.tirgearrpublishing.com/authors/Gemmell_Romy/midwinter-masquerade.htm
Exquisite Quills Free Anthology includes Romy's short story, Highland Hogmanay

http://www.smashwords.com/books/view/374815