Please welcome author CR Moss to the blog today.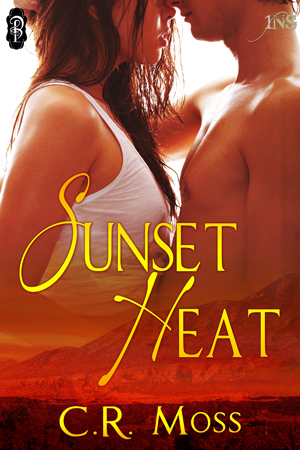 I'm here today talking about one of my 'Sunset' stories – 'Sunset Heat.' The four books in my 'Sunset' series are a part of the 1Night Stand line at Decadent Publishing.
What inspired this story?
'Sunset Heat' is the fourth book in my 'Sunset' series and is closely tied into the third story, 'Sunset Temptations.' Inspiration for my hot little series occurred a couple of years ago when I went to a convention on the strip and met the ladies of Decadent Publishing. While a group of us were sitting around and talking, information about 1NS came up. Having already started on a book I planned to target to a different publisher, I re-purposed it for the 1NS line and expanded on the story's background to make a series. Listed in order of release, Sunset Desires, Sunset Seduction, Sunset Temptations and Sunset Heat follow four female relatives who are all set up through the matchmaking service.
What do you like best about being a writer?
I can be my own boss and set my own hours. If I want to work during the day I can. If I want to work late at night into the wee hours of the morning I can. & I can work in my jammies and not have to worry about a bad hair day!
What is your writing process like?
First thing I normally do is check email, then I'll check Facebook. Next I'll get to my writing projects. When I'm working on a story, I'll reread and do editing on the parts I haven't edited yet to catch myself up. I'll make the font a color other than black to keep track of what I've already gone through. Then I'll write the new material. If I'm starting a new project, I do an information dump and outline as much of the story that's in my head first thing. Then I work off the outline, fleshing out all the ideas and stuff as per above.  But then, when I'm really focused on a project, I tend to just plough through it and focus only on getting it done…staying up late writing, getting up early and getting back to the story, eating when I think I can get away from my 'desk' without ruining the flow… I say 'desk' because sometimes if it's nice outside, I'll grab my notebook and pen and either sit on my patio, or go to the pool, and write. The house and social life suffers, but I'm a slave to my art. 🙂
What was the last book to be added to your keeper shelf?
'Unbreak Me' by Lexi Ryan (it's a wonderful story IMO.)
What would readers be surprised to know about you?
I crewed for a balloon pilot once upon a time.
Do you organize your TBR pile?
Nope. The print books occupy about four different places in my home and I have a whole bunch of ebooks saved between my computer, Kindle and iPad.
*What's next for you
With my writing partner, we're currently working on our next Double D Ranch Tales book. Readers can stay tuned to my blog or the Double D blog (http://doubledranchtales.blogspot.com/) for info on that. On my own, I have a few stories in the works ranging from erotic fairy tales to spooky horror.
Now for info on Sunset Heat and where to find me…
~ Blurb for Sunset Heat – a 1NightStand story from Decadent Publishing & book 4 in the 'Sunset' series ~
(Book Content: Contemporary, Erotic, Chick Lit, Romance)
Can one night transform a woman's life?
* Seana Tramonto feels doomed when it comes to relationships. When she's set up through the 1Night Stand service, she's apprehensive at best. Her concern turns to ire when her match turns out to be a man who broke her heart years ago. Old wounds are slow to heal no matter how sexy the man asking for forgiveness.
* Zachary Russo, a Las Vegas policeman, is talked into doing a 1NS date. When he learns it's with his high school tutor and friend, the girl he stood up before the Homecoming dance, he's determined to make it up to her. But seeing her again opens his eyes to the sexy woman she's become. Can he prove he's grown up or will circumstance beyond his control kill their second chance?
~ Excerpt ~
"I had it bad for you."
"So, what's your wish now?"
If she leaned toward him, turned just enough, maybe he'd kiss her. Did she have the nerve? What would he think of her advance?
"Seana?"
She closed her eyes, relishing the silky way he spoke her name. "Hmm?"
"Your wish. You're going to enter the drawing the charity is having, right?"
"I can't say or it won't come true," she murmured. Just move your face toward his. Do it! Though her inner diva cheered her on, she couldn't.
"A superstition for shooting stars and birthday candles."
"So? I don't want to take chances." Yes you do, her inner cheerleader chided.
He brushed his cheek against hers. Warm breath caressed her ear. Restless throbs of desire pulsed in her veins. Sexual excitement curled in her womb. It'd been quite some time since feeling those particular sensations. Who'd I do it with last? Oh, the guy in the off-Broadway showing of West Side Story. Antonio something or other. She'd almost told him she loved him, but his ex-girlfriend came back into the picture, which snipped her out of it.
Could Zach be her one? Even after all this time and despite their difficulties? Back when she'd helped him in high school, she'd wanted him and would have given him her all. She didn't feel any different now. Turning her face toward his finally, she prepared for the first of what she hoped would be many kisses. None came. He wasn't as close as she thought. Seana stared into his eyes, becoming lost in their depths.
"Seana?"
"Yes?" She breathed in his spicy, clean scent, wanting to nibble on the muscle stretching from his neck into the top of his white dress shirt.
"Tell me more about the tutoring room."
"Why? Interested in playing out my fantasy?"
Zach rubbed her knee. His touch seared her skin under her black sequined dress. "But we're not in a school. There are no classrooms to use."
The scenario she'd envisioned as a young adult awaited her next move. If there's ever a time to be bold and spontaneous, it's now. Quit stalling and take the leap. Feeling naughty and way too frisky to miss the opportunity, she drew circles on his leg with her fingertip. "We can improvise by going up to your room or mine and pretending we're in a classroom."
Seconds clicked by. Zach didn't say a word. Wasn't he interested? Her palms became clammy. I can't be rejected again.
Buy Links ~
Decadent Publishing – http://www.decadentpublishing.com/product_info.php?products_id=801&osCsid=1h3g0nat1rs7mtvnq11gnptno2
Amazon – http://www.amazon.com/Sunset-1Night-Stand-Series-ebook/dp/B00DROPKF6
All Romance eBooks – https://www.allromanceebooks.com/product-sunsetheat-1228203-177.html
Bookstrand – http://www.bookstrand.com/sunset-heat-0
Barnes & Noble – http://www.barnesandnoble.com/w/sunset-heat-cr-moss/1115920480?ean=2940016541402
Bio ~
An eccentric and eclectic writer, C.R. Moss pens stories for the mainstream and erotic romance markets, giving readers 'Worlds of Possibilities.'
Find C.R. Moss here ~
Website: http://crmoss.com/
Blog: http://crmoss.blogspot.com/
Blog: http://doubledranchtales.blogspot.com/
Twitter: https://twitter.com/CRMoss
Facebook: https://www.facebook.com/CRMoss.author
Pinterest: http://www.pinterest.com/crmoss/
Goodreads: http://www.goodreads.com/CRMoss