Please welcome the Stiletto Girls to the blog today for a fun interview.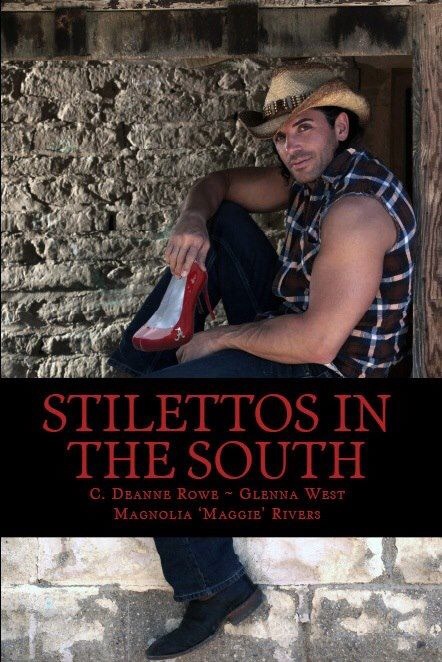 What inspired this story?
CDR – The Stiletto Girls looked forward to writing Stilettos in the South because we all three grew up in the South.  We each took a memory from our childhood and developed a story around the memory.  It was fun to relive times we thought we had forgotten.
MR –  Yes, our fans kept asking us to write about them.  So it was just easy to do something from the South, since, as Deanne said, all three of us grew up there.
GW –  It was wonderful to relive memories with these two.  They're just a hoot.
Do you have a favorite scene or character from the book?
CDR – My favorite scene from my story Twilight Beach is the opening scene.  It was fun to set it back at one place which played such an important part in my childhood.  I loved it.
MR –  I would be hard to choose one scene or one character.  Not only do I like all of mine but I like all of Deanne's and Glenna's, too. 
GW –  Well, let's see – I like them all.  I especially like my character Jason Storm from my story "River Rescue." He's just a rugged, handsome man and I like that.
Was there anything particularly challenging about writing this?
CDR – The timeline was difficult because Twilight Beach was filled in and turned into a housing addition after I graduated from high school.  I had to make the timeline of the story work around that. 
MR – Ending the story.  I always want to keep my characters alive.  I just hate to write "The End."
GW –  I was writing from an article Maggie had sent me.  I just had to make it fit into my characters' world.
How did it compare to writing your other books?
CDR – I've enjoyed writing all my stories included in the books in The Stiletto Series.  Once we decide on a theme for the stories, they fall into place.  I've also enjoyed writing my own books.  There is something very special about seeing your name as author of a book.
MR –  Each story is different.  That's what our fans love about The Stiletto Series.  They're short, fast reads.  I write individually, too, in addition to writing as one of "The Stiletto Girls."  As Deanne said, once we decided on the theme everything else just falls into place and we start writing.
GW –  I'm a relative newbie.  I love writing as one of "The Stiletto Girls."  I'm also working on my own book which will be different from the ones I write with Maggie and Deanne.
If your heroine had a theme song what would it be?
CDR – I'm not sure I would have a theme song for any of my heroines.
MR –  All of my heroines are so different I don't think one song would fit.
GW –  Not sure they have one.
What character gave you the toughest time to write in the book?
CDR – My hero, Colt Matthews, in Cowboy Temptation ~ Colt and Cassy.  He started out as my 'bad guy' and turned into the hero.  I even tried to kill him off in one scene and he wouldn't die.  I guess you can say he was the winner of that battle.
MR –  They all give me fits at one point or another.  I killed off one of my heroes right smack dab in the middle of the book.  Had to go back and rethink that one!
GW – I think they all give me a little trouble in the beginning, before I really get to know them.
Which character is most like you or unlike you?
CDR – I like to think all my heroines have some of my characteristics.  I like to write a strong woman with a huge capacity to love, but don't cross her.
MR –  I'm like Deanne on this one.  I think they all have some part of me.  Probably only recognizable to myself.
GW –  I think every character has part of their writer in them.  Maybe not necessarily intentionally but I think we put our own emotions and lives into them a piece at a time.
Any chance of a sequel or a spin-off with one of the other characters?
CDR – probably not in The Stiletto Series, but I am planning a sequel to Cowboy Temptation ~ Colt and Cassy. 
MR –  There's always that possibility.
GW –  I like to start fresh with new characters, new places, new lives so I don't think there will be, but you just never know.
Who would your ideal cast be if a movie was made?
CDR – I don't know that I could pick an ideal cast.  In my story from Venus in Stilettos, my hero was based on Jason Witten of the Dallas Cowboys.  I don't know if he would consider acting instead of football, but he is nice to look at.
MR –  Jeremy Mooney (you can find pics of him on my FB) comes to mind.  He's an Alabama boy born and raised.  Like my Southern Gentlemen!
GW –  Oh, honey, as long as he has muscles, I wouldn't care!
If your book had a soundtrack, what kind of songs would be on it?
CDR – Music from the sixties and seventies, lots of Gary Puckett and the Union Gap.   
MR – Anything from Alabama.  Love their songs.  A little bit of Rascal Flatts and a whole lot of Willie Nelson.
GW – Love songs.
Do you have any writing rituals?
CDR – I don't really have a ritual, but I do need peace and quiet.  I hide in the sunroom some days wearing headphones or turn on music and shut doors.  If I am writing a love scene, I need the right motivation.  Watching Dirty Dancing or listening to romantic music helps get me through such a tough job.
MR – Not any rituals as such.  I usually wake up at 2 a.m., write til 5 or 6 a.m. then go back to sleep for an hour or two.
GW – I have to have noise.  Either the radio blasting or TV going. 
What do you like best about being a writer?
CDR – I love the idea I can create whatever I want to create.  I can create people and worlds and no one can tell me I'm doing it incorrectly.  I love the freedom and creatively writing allows.  Having someone tell you they loved your story is the best feeling ever.   
MR –  That's easy – having written.  LOL!  I like the feeling of having completed my story.
GW – It's a solitary job.  I don't have to make contact with other people.  I'm more of an introvert than Deanne and Maggie.
What is your writing process like?
CDR – I am a definite pantser.  I don't like to outline my stories, but I do love to plot.  I write until the characters take over my story and then I'm just there to listen and take notes.  I love it when that happens.
MR –  I'm a pantser, too.  I did outline one story once but then I couldn't write it.  I still have the outline! 
GW – I'm a definite plotter.  These two drive me crazy and I'm sure I have to drive them crazy as well.  We talk on the phone a lot.
If you get writer's block, what do you do to snap yourself out of it?
CDR – I begin a new project or go back to one I haven't completed.  Changing stories keeps the creativity flowing but gives you a different path to go down.  I always have several projects in different stages of completion.
MR – I take a walk in the woods.  Get outside with Mother Nature for a bit.  I love watching ducks on a pond or deer roaming around.  I'm an animal lover so I take a bit of a break from being stuck inside.
GW – I haven't run across that problem yet so I guess I don't know.
What would your dream writing space look like?
CDR – My dream writing space would be on a beach in Hawaii in a cabana with my laptop and cold drink.  Maybe a nice looking cabana boy.
MR – I'm going to go visit Deanne in hers!  Seriously a log cabin in the woods with plenty of windows so I could see the critters that live there, too.
GW – I think I have mine already.  I live on a farm and my writing space is an office that faces some woods and some pasture land, too.
What's one thing that's always on your desk?
CDR – Paper and a Thesaurus along with my IPod. 
MR –  Oh that's an easy one!  Stilettos!  I have everything Stilettos – paperclip holder, tape dispenser, bottle holders, keychains, cell phone holders.  If it's in the shape of a stiletto, I probably have it.  My fans are absolutely wonderful at sending me things they find.  I take photos of them and put them on FB.
GW – Pictures of my family.  Paper, pens.
What would readers be surprised to know about you?
CDR – My favorite snack food is Cheese Its.  I absolutely love them.
MR – Well, a lot of the people I graduated high school with didn't know I joined the Air Force after graduation and became a nurse.
GW – That I knew Maggie as a kid.  Oh, the things I could tell you about her!
What was the last book to be added to your keeper shelf?
CDR – Sidney Sheldon's Memories of Midnight. 
MR –  Stilettos in the South, of course!
GW – Maggie got me hooked on Sharon Sala.  I borrowed "The Hen House" by Sharon Sala from Maggie and she's not getting it back!
Do you organize your TBR pile?
CDR – I try, but my TBR pile is out of control.  I don't have enough time to read all the wonderful books that make up my TBR pile.  One of these days…
MR – You mean I'm supposed to actually read the books in my TBR pile.  LOL!
GW – My TBR pile is stacked in the corner of my office and I just keep adding to it.  I read from the bottom up.
If you could have a dinner party with six people, dead or alive, real or fictional, who would you invite and why?
CDR – My Grandfathers, Grandmothers and my Dad who have all passed because I miss them terribly.
MR – Agatha Christie, Zane Grey, Edgar Allen Poe and Alfred Hitchcock because they were fantastic writers.  Sharon Sala, my favorite author in today's world and my mom because she left us way too soon.
GW – Oh my, can I only have six?
*What's next for you?
CDR – The Stiletto Girls have two new books in the works, Stilettos at Sturgis and Stilettos in Wine Country.  On my own, my next book Southern Sophistication will be available soon and I am also working on In the Heart of Valley.  I will have both of these books out the beginning of 2014.  I hope everyone will watch for them.
MR –  The Stiletto books, of course, plus some books under my other pseudonyms.  Also, The Stiletto Girls are having a big blowout of a book signing party in my home town.  On May 3, 2014, we'll be in Tuscaloosa, Alabama at the Hilton Garden Inn from 10 a.m. to 2 pm. Plus, if you're in the vicinity you will definitely not want to miss this because we have Jeremy Mooney and Steffen Hughes coming, too.  Again, you can find photos of both on our FB pages.
GW – I have a book of my own in the works plus working on the new Stiletto book.