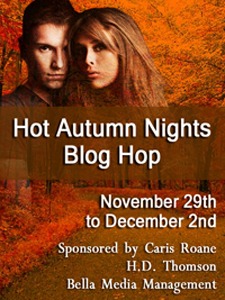 Hi everyone, welcome to my blog post for the HOT AUTUMN NIGHTS BLOG HOP. For my stop on the blog I'm giving away one ebook copy of my paranormal romance IF TOMORROW NEVER COMES.
"What's your idea of a hot autumn night?"
Well, looking out the window right now it's hard to believe it's still autumn with the gray skies, the snow and the chill in the air. But a perfect hot autumn night would be a lot less snow and cold, maybe some leaves still on the trees and a sky full of stars sitting outside near  a fire with a warm blanket and a good book. It also wouldn't hurt to have a hot guy around for company and to go get a hot drink when needed 🙂
So, what's your idea of a hot autumn night or a must read on these cold autumn evenings?
Powered by Linky Tools
Click here to enter your link and view this Linky Tools list…