Please welcome author Elaine Violette to the blog today to discuss her upcoming release, A KISS OF PROMISE and share an excerpt with us.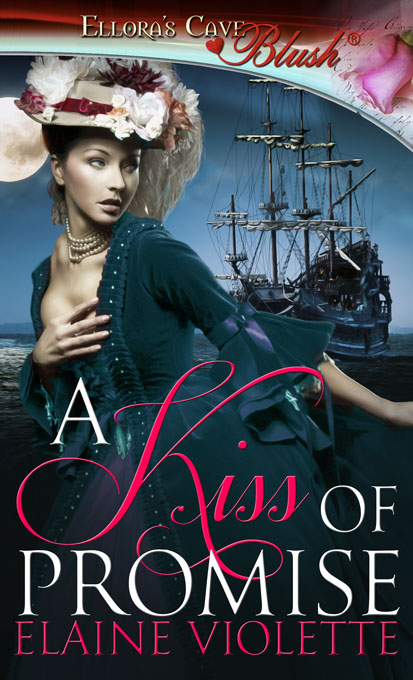 ***
What inspired this story?
Thanks for asking this question! My first Regency novel, Regal Reward, set the stage for A Kiss of Promise. Regal Reward introduces the Blackstone brothers, York and Martin. The story focuses on the elder brother, York, and his obsession to clear his father's name when he is falsely accused of treason, stripped of his titles and thrown into prison. When York falls in love with Marielle Henley, a rebellious beauty betrothed to his enemy's son, she becomes a pawn as well as a distraction in York's fight for justice.  Readers intrigued by both the Blackstone brothers encouraged me to write Martin Blackstone's story. In A Kiss of Promise, Martin, freed from the scandal surrounding his family, wants nothing to do with England's aristocracy. He seeks adventure in America but an ocean can't dissolve the memories of the woman he's left behind. When her life is threatened, he must re-evaluate his choices and come to her rescue. A Kiss of Promise is journey of healing and love. Because Regal Reward has a special place in my heart, its much loved characters, apart from the hero and heroine, needed to have their stories told and plights resolved.
Do you have a favorite scene or character from the book?
Alaina, my heroine in A Kiss of Promise lives a stormy life of sacrifice and submission.  Her journey through webs of deceit and longing to personal freedom and romance was a pleasure to tell.  I hope my readers are touched by her courage.
Was there anything particularly challenging about writing this?
Oh, yes!  The original version of this story was titled, Lavender Lady, and accepted for publication. Two weeks before its release, I received news no author wants to hear. The copy editor asked me to remove certain aspects of the story, mainly the heroine's trip to America. She felt it didn't meet their traditional regency guidelines. Being a true American, I rebelled, insisting that in that time period there were women who boarded ships to America.  My arguments and suggestions were futile so I asked for my rights back.  Authors need to listen to their hearts when changes are requested that war against your own gut feelings.  Most of the time our editors are right on, but if our inner nudging tell us to stand our ground, we need to listen. I shelved the story and wrote another, A Convenient Pretense, published in 2013. Eventually I resubmitted Lavender Lady, making changes that met my professional and creative license as an author and changed the title to A Kiss of Promise. The manuscript was accepted immediately and my new editor placed it in the historical romance genre.  My heroine's voyage to America remained.
If your heroine had a theme song what would it be?
That's easy.  "What Doesn't Kill You Makes You Stronger" by Kelly Clarkson.  Alaina faces challenges that force her into situations that could cause her to turn away in fear and self preservation or face with courage and determination.
Which character is most like you or unlike you? 
Alaina.  I won't say anymore. Only that I can relate to her struggles and, perhaps, many of my readers will be able to as well.
What do you like best about being a writer?  The miracle of inspiration.  I am always amazed at how characters and plots develop and how the written word brings life to our creations.
What would your dream writing space look like? A wall of books behind me and a huge writing desk before me set in front of a large picture window overlooking a vast ocean.  Just the thought of watching and listening to the temperament of waves as they ebb and flow, peacefully or ferociously toward the shore would be my dream of a perfect writing space. I can imagine an ocean of ideas flowing along with the waves.
What's next for you?
My earlier stories take place in England while characters in A Kiss of Promise voyage to America.  In the manuscript I am presently working on, the setting is nineteenth century New England, a real departure from previous novels.  My inspiration for this story came from a walk in a cemetery and a stone that carried an epitaph that touched me deeply.  I've been sitting on this story for a few years while writing two other novels in between. I believe the reason why I have held off on this one is because the inspiration of it so fascinated and affected me that I wasn't ready to let go of its reality and transfer it into fiction.
Excerpt from A Kiss of Promise:
Martin tried to draw her back, his hands clenching her tighter. "It'll work out. You won't have to face any contempt. I owe you that for leaving England without a word to you and after our intimacy. I was wrong."
                "You owe me nothing," Alaina breathed out, holding back tears. He spoke no words of love or affection, only contrition. He believes he compromised me with a kiss, a kiss that meant nothing more to him than a flirtation.
She had ignored the truth for too long; instead, held on to a dream. If she'd meant more to him, he wouldn't have left without a pledge to return to her. He pitied her and he would never forget that she'd compromised her reputation. No, he'd done enough. The truth, as painful as it was, caused her to push away from him. She'd rather face humiliation and scorn than accept his sacrificial offer of marriage.
"Are you ready to leave, Alaina?"  Richard asked as he entered the room.
She nodded, glancing back only once before following her brother out the door.
A Kiss of Promise is available for pre-sale as an e-book and is being released on April 3rd. Presently it is available for pre-order on Amazon and Ellora's Cave websites. The link for purchase is also available on my website.
A Kiss of Promise available at Ellora's Cave
On my website
Elaine is a veteran high school English teacher and teaches public speaking part time at a local community college. She holds a BS in English Education from the University of CT and an MS in Educational Leadership from Central CT State University. Her published works include novels, poetry, non-fiction publications, and book reviews. Her first novel, Regal Reward, a Regency Historical published in 2007, and available in ebook and print was a finalist in the NJRW Golden Leaf contest. Her second Regency, A Convenient Pretense, is available as an ebook. Her newest novel, A Kiss of Promise will be released April 3rd, 2014, and is presently available for pre-order on Amazon and at Ellora's Cave Publishing. Her affiliations consist of Romance Writers of America, CT Romance Writers, and Charter Oak Romance Writers. Visit her website at www.elaineviolette.com