Please welcome author Rose Anderson to the blog today to talk about shape shifters. So glad to have her join us.
Thanks for having me today Lisa. October is a perfect month to talk about shape-shifters, and I just happen to have two!
Why do we find them so interesting? For me, I suppose it began when I read Bullfinches Mythology when I was a child. Myths and legends from around the world are filled with shape-shifting men, women, and gods. From Zeus transforming into a swan to seduce Leto, to Merlin teaching a young Arthur how to fly as a hawk, the idea of becoming an animal and using that animal's attributes (such as flying) captures our imagination.
One such local urban legend captured mine. Eyewitnesses claimed to have seen a wolf walking like a man, and the locations mentioned for these sighting were minutes from my home. It was a story just begging to be written, and voila! The Witchy Wolf and the Wendigo 2-book saga came into being.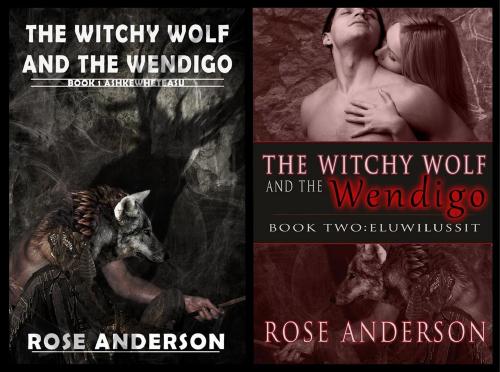 Here's the blurb:
What does an immortal Native American shaman do when the grave he's sworn to watch over for all eternity disappears under urban development?
His purpose of guarding his wife's burial mound is gone, Ashkewheteasu seeks to end his immortal existence. In his despair, Ash assumes the form of a wolf and steps in front of a moving car and into the life of Dr. Olivia "Livie" Rosalini. The veterinarian saves the animal's life, and in the process saves the man within. Livie has no idea the wolfish dog she's taken into her home and grows to love is a magical being seeking to win her heart as a man.
While Ash is learning a new world filled with new love, friendship, and happiness, an old menace makes plans to steal it all away; just as he had 3000 years before.
<<>>
I had such a fun time researching that story, I decided to look further into the shape-shifting mythos. It took some digging, but I found a modern Scottish family who says they have Selkie blood – and they have been saying this for hundreds of years. How could I not write that?  My research also turned up a strange little legend regarding Selkies, saltwater, and tears. I added both elements to my most recent release – Enchanted Skye.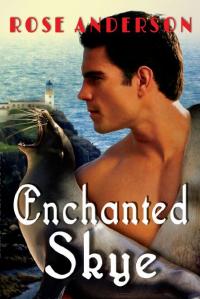 And here's the blurb:
Alexander MacCodrum belongs to a race of shape-shifting sea creatures living on Scotland's Isle of Skye. When Jenna MacLeod unknowingly adds seven tears to the salt of the sea, she accidentally unleashes an ancient charm that catches the transformed Selkie unawares. Under this binding spell, Alex must win Jenna's heart, or the pain of unrequited love will drive him to take his own life. Unfortunately for Alex, Jenna hasn't come to Skye looking for love and it will take the force of a hurricane to bring them together. But worse, Jenna's violent ex-boyfriend has found her at last and Carl has made it perfectly clear – if he can't have her, no one can.
<<>>
I recommend revisiting those myths you read as a child. To see them through adult eyes brings a whole other nuance to the tales. Most are metaphoric and perfect reading for a chilly October night. Both of my shape-shifter novels, and the rest, can be found in ebook and paperback wherever such books are sold. You can also Look Inside and read a sample on Amazon too.
In comments, share your favorites!
Rose Anderson is multi-published award-winning author and dilettante who loves great conversation and learning interesting things to weave into stories. She lives with her family and small menagerie amid oak groves and prairie in the rolling glacial hills of the upper mid-west.
Buy Rose's books on Amazon http://www.amazon.com/Rose-Anderson
Follow my blog http://calliopeswritingtablet.com/
And links http://calliopeswritingtablet.com/links-links-more-links/