Please welcome author Daryl Devore to the blog today as she spotlights CAPRI'S FATE.
For a chance to win 1 ecopy of Capri's fate, answer this question in the comments: Which of the four seasons is Daryl Devore's favourite? (Please don't forget to include your email in your comments so we can contact you if you win!)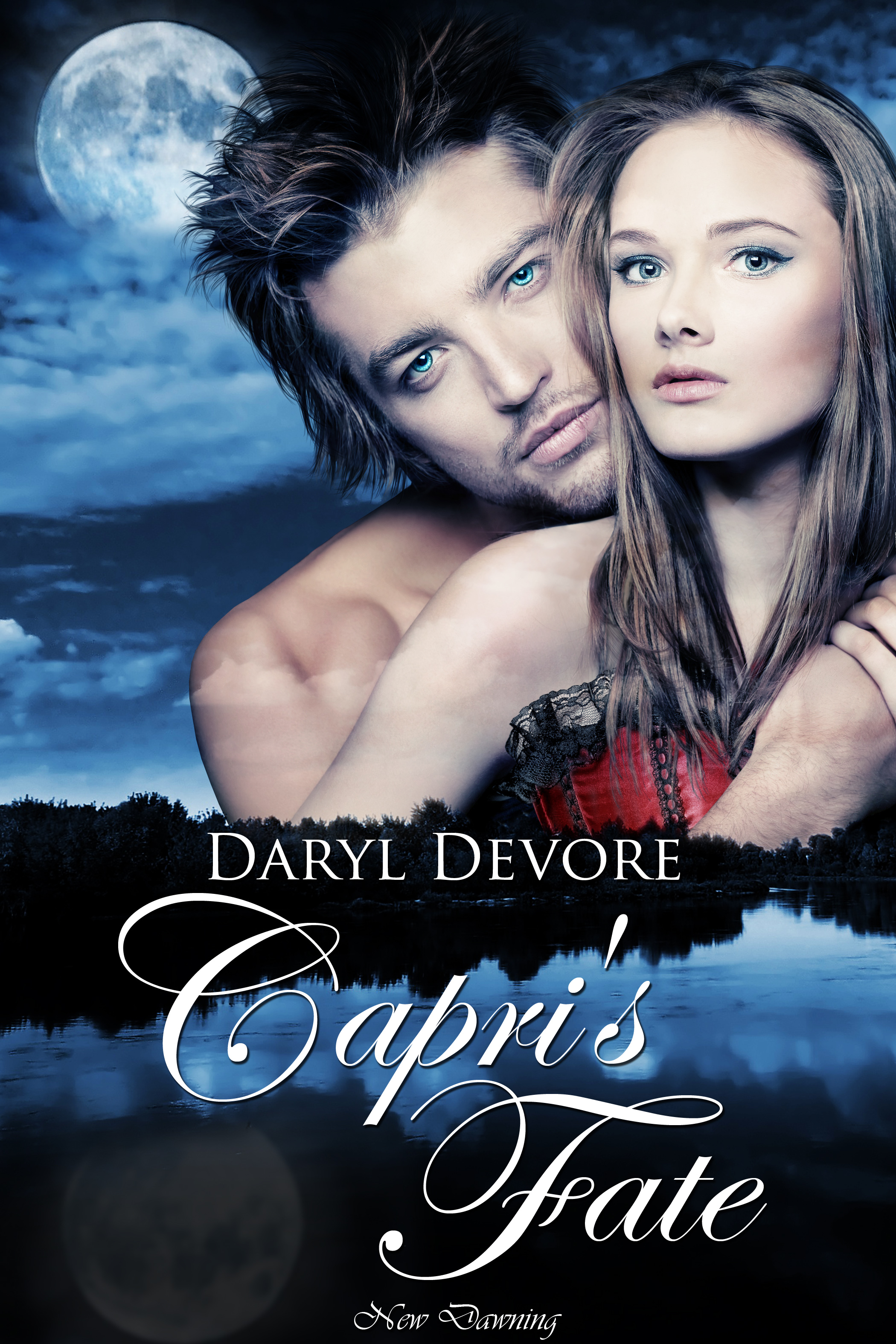 Capri's Fate
 Erotic contemporary fantasy
Blurb
What's a woman to do when a voice follows her home and makes mad, passionate love to her?
Corporate business woman, Capricious Gray, is dragged to a sex toy convention by her best friend. Once a shocking, mysterious disembodied voice helps her with her purchases, it follows her home. Passion ensues, leaving Capri torn between lust for her fantasy lover and the desperate need for reality in her life.
Thall, son of one of the Fates, harbors the irrepressible need to be with the woman he's desired from afar for years. In order to make her his, once and for all, he must help Capri get past her fears, including the fear of what he represents – a fantasy.
Can fantasy become a reality for these two lovers?
Check out an excerpt below:
Set up – Capri is flying to a remote island on a private corporate jet with a hot sexy pilot.
"Ms. Gray. We've fifth in line for takeoff. No wandering around the aircraft until we're in flight. Settle back and enjoy the flight."
She returned to reading her ebook. The roar of the engines enticed her to glance out the window. The forward shift of the jet pushed her back. A few moments later, she heard the landing gear retract into the belly of the plane. At last! We're on our way. Hotel bed, look out, I'm coming! She picked up her glass and swallowed the last of her wine.
Having finished the book she was reading, Capri tucked her tablet away and stared at the door blocking her view to the cockpit. She picked up her empty glass, walked to the galley, and filled it, then knocked on the cockpit door. "Anybody in there?"
"No."
She raised her eyebrows and opened the door. "No? No is not the answer the passenger wants to here."
Captain Hall sat facing the window with his fingers interlocked behind his head. He lowered his arms, turned his head and smiled, then pointed to the empty co-pilot's seat.
Capri stepped closer. "Is it okay that I'm in here? You know, FAA rules and all."
"It's fine."
She slipped into the seat and cast her gaze over the numerous dials, switches and display screens. "Oh, wow. Probably should be able to think of something more intelligent but…" She shook her head. "Look at all the electronics."
"Flying 101. This is the throttle." He gripped his hand around it. "Think of it as the gas pedal." He placed his hands on the metal object in front of them. "This is the steering wheel of the plane. And see this." He pointed to a small screen in front of him, blue on the top and brown on the bottom. "When it is level like that, life is good."
Capri waved her hand at the other devices. "What about all these?"
"Haven't the foggiest?"
"Pardon?" She laughed. "You are not instilling confidence in your passenger here."
"Well then, my telling you that I only got to chapter two in Flying for Dummies is probably not a good thing?" His eyes twinkled with delight.
A brilliant flash of light interrupted Capri. "Oh my God, did we just get hit?"
He did a visual scan of the instrument panel. "Don't think so. But no worries. Planes are designed to take lightning strikes."
She swallowed two mouthfuls of her wine. "I didn't think it would be this dangerous up here. Maybe you were right, and we should've waited."
"Well, I tried to tell you that."
"But? You left a but hanging on that sentence."
"You were being a bit of a corporate bitch, and since I like my balls where they are, I figured I'd get you to where you wanted to go."
Capri fingered a switch on the mid console.
"Be careful. You can finger the switches, but if you flick them, you might not get the result you expected."
She glanced sideways at him.
"It's best to handle a plane like a beautiful woman. Twist the nobs gently. Move the switches with a gentle flick and when everything is ready, apply a full power thrust."
***
Buy Links – https://www.smashwords.com/books/view/309990
https://www.allromanceebooks.com/product-capri039sfate-1172391-140.html
http://www.amazon.com/Capris-Fate-ebook/dp/B00CJ1I6Y0/ref=sr_1_1?s=digital-text&ie=UTF8&qid=1366992997&sr=1-1&keywords=new+dawning+bookfair
http://www.kobobooks.com/ebook/Capris-Fate/book-7uOs7lH6QU66B8y_ji9JWw/page1.html
https://www.allromanceebooks.com/product-capri039sfate-1172391-140.html
Where to find me
Where to find me – Blog – http://myeroticnotions.blogspot.com
Facebook – https://www.facebook.com/daryl.devore
Facebook Author Page – https://www.facebook.com/pages/Daryl-Devore/280168402052520
Twitter – http://twitter.com/daryldevore
Google+ – Daryl Devore
Wattpad – http://www.wattpad.com/user/DarylDevore
GoodReads Author Page – http://www.goodreads.com/DarylDevore
Amazon Author Page – http://www.amazon.com/-/e/B004TJ1354
Bio
Daryl Devore lives in an in old farmhouse in Ontario, Canada, with her husband, two cats, a large salt water aquarium full of fish and some ghosts. Her daughter is grown and has flown the nest. Daryl loves to take long walks up her quiet country road, or snow shoe across the back acres and in the summer, kayak along the St. Lawrence River. She has touched a moon rock, a mammoth and a meteorite. She's been deep in the ocean in a submarine, flew high over Niagara Falls in a helicopter and used the ladies room in a royal palace. Life's an adventure and Daryl's having fun living it.