Please welcome author Beth Barany to the blog today! So glad to have her here spotlighting her novella "Touchstone of Love"
The Paranormal in Everyday by Beth Barany
As a paranormal romance author, I'm inspired by the paranormal in the everyday. Like my heroine in "Touchstone of Love," I often see a sparkle out of the corner of my eye, a shimmer that could be a something magical. My logical mind knows that magic is not possible in our mundane world. But my soul wants the whimsy, the surprise, the whiff of something sweet and mysterious.
So I put that wish for whimsy and magic into my fiction. Mix that with my love of medieval French cathedrals and I had the recipe for my first paranormal romance story, the novella "Touchstone of Love."
Enjoy the excerpt!
To learn more about "Touchstone of Love" and the collection it's in: Gargoyle: Three Enhantting Romance Novellas, go to http://author.bethbarany.com/books/gargoyle-three-enchanting-romance-novellas/.
EXCERPT OF "TOUCHSTONE OF LOVE" BY BETH BARANY
Julien of Beauvais stomped through the edge of town, through the fields and the stormy dark. He didn't care about the wet and wind. He needed to find peace, he needed to find inspiration. It was time that he showed Master Stonemason Bernard de Chantilly all of his skill and artistry and present his master work to the community and get his approval, even if the master stonemason said Julien could not present his work at Michaelmas in five days.
The master stonemason didn't like him and had not allowed him to present the previous year. But this year would be his. It was time he showed Master Bernard that he was ready to become a master mason and travel as a free man. His training was complete. He'd become a journeyman and done a short trip to Paris with Master Bernard a few years ago. Yet, most men at his age of twenty-six years had already started their own houses and were busy at work on the new cathedrals sprouting all over France.
He wanted to travel to Amiens, or Rennes, and direct his own house, with a woman at his side, and his own apprentices, and a passel of children. The time was now. His time. Oblivious to the cold and the wet, Julien stomped through the field in anger.
Not only was Master Stonemason Bernard a barrier to his dreams, but so was also Marie-Jeanne, his intended. She'd betrayed him with that farm boy from the count's household. How was he going to create a home when his betrothed was ready to run off with another?
That was why, in his anger, he'd messed up the day's stone carving work and had been relegated to sorting and breaking granite blocks for the other apprentices.
The rain pelted his face as Julien stumbled over something. He lost his footing and slipped to his knees. He put out his hands to brace himself and felt something soft. Soft and warm.
As gently as he could, as if he were handling a new-born lamb back at his parents' farm, he felt for the shape of the soft and warm, and unmistakably touched a breast. A woman fallen in the fields. In the cloudy night with no light of the moon or stars, he reached out to learn more about her. She was alive by the warmth of her, and by the strong pulse at her throat, and not long outdoors, as her skin wasn't completely chilled. He couldn't leave her, so he scooped up her unconscious, naked form and headed for his workshop hidden in a copse of chestnut trees outside the walls of the town.
Once inside his small workshop, he stoked the fire under the cook pot. He rushed to cover her with his blanket and rubbed the hands and feet of the woman, something he'd seen the old midwife do to women who sometimes fainted in the fields. The woman breathed deeply, but remained asleep.
She was naked, curved in all the right places. Clearly well fed, luscious, but quite improperly dressed for a fall night, as if she'd been bathing and wandered off from her task.
Maybe she was under some spell that made her sleep. While he was a god-fearing man, and worshipped Mother Mary, he knew magic was in the land. He felt it when he worked the stone every day, but never talked about it.
The woman appeared calm, even peaceful as she slept. Definitely a woman, not a girl. Her long golden locks had come loose from her tie. She had rosy cheeks, pink lips, an angular nose, and a long column of a throat. Her chest rose and fell with even breaths.
What color were her eyes? He pulled the wool blanket up under her chin, and tucked it around her body to keep her warm. A tiny waist, a warm shapely rump, long legs, strong feet—he noticed all that as he chastely tucked the blanket around her. He'd noticed that her palms were strong, with callused, long fingers, almost as big as his. She must be a farmhand from a neighboring village, but he didn't recognize her.
She was almost angelic in how she slept. His troubles forgotten, he made for his worktable on the other side of the one-room shed and picked up his chisel.
He'd found the inspiration he needed to start his work of art.
"Touchstone of Love" is in the collection, Gargoyle: Three Enchanting Romance Novellas.
ABOUT GARGOYLE: THREE ROMANCE NOVELLAS
The mysterious lives of gargoyles. They don't just hang out on buildings. They right wrongs. They wreak havoc. And they change the lives of unsuspecting people who never see them coming.
ON A WING AND A PRAYER BY Kay Keppler (Humorous Contemporary)
The hero…
Craig knows that Bea is in trouble. But Craig can't do anything about it—because he's a garden gargoyle and Bea can't hear his warnings. When unexpected visitors arrive to help, Craig finds the power he had all along. Now the neighborhood will never be the same.
TOUCHSTONE OF LOVE by Beth Barany (Time Travel)
The touchstone…
When a thunderstorm transports software expert Rose Waldman to thirteenth century France, she meets hunky stonemason Julien, who is secretly creating a gargoyle in defiance of his master mason. Can independent gadget loving Rose trust her life and heart to Julien, and can she really never go home again?
THE MILLER'S DAUGHTER BY Patricia Simpson (Historical)
And the freak just trying to get along…
Sentenced to burn at the stake for sorcery, Merofled volunteers to help jaded warrior Alaric kill a gargoyle that threatens her village. But Merofled soon discovers the gargoyle is not a monster at all. It's a misfit just like her. Can she persuade Alaric to spare the gargoyle–and herself?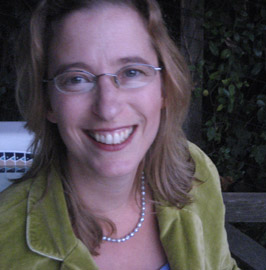 ABOUT THE AUTHOR
Award-winning author, Beth Barany has been making up fantasy and adventure stories all her life. She writes magical tales of romance and adventure for women and girls to transport them to new worlds where anything is possible. To learn more about Beth and her fiction, visit her site: http://author.bethbarany.com. On Twitter: http://www.twitter.com/beth_barany. On Facebook: https://www.facebook.com/bethbarany.
BUY LINKS:
Amazon (international): http://viewbook.at/Gargoyle
All Romance Ebooks: https://www.allromanceebooks.com/product-gargoylethreeenchantingromancenovellas-1281845-143.html
Barnes&Noble: print and ebook: http://www.barnesandnoble.com/w/gargoyle-beth-barany/1116294553?ean=9780984821105