Please welcome author Lauren Linwood to the blog today. So happy to have her here to share with us some tidbits about her research for OUTLAW MUSE.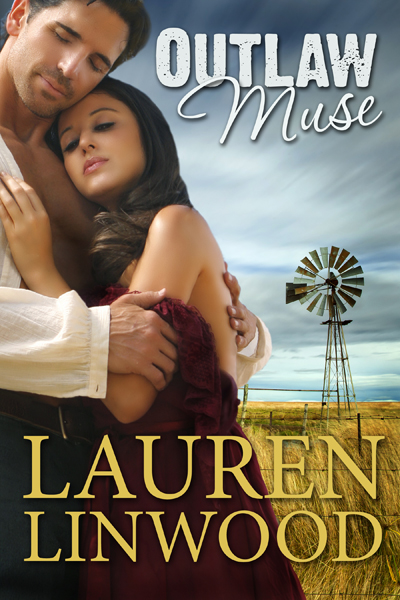 I love history (good thing I write historical romances!), and I enjoy doing research for my novels. One tidbit that sparked some the plot in Outlaw Muse came from reading about English and Scot noblemen who invested in cattle and land in the US between 1867-1887. These wealthy men were always looking to increase their coffers, and many started investing in the US as far back as the 1840s when the building of railroads exploded in America.
Between 1870-1881, capital invested in the American cattle industry earned over 33% annually. That got the attention of the British aristocracy, and they bought land, developed ranches on them, and purchased cattle.
In Outlaw Muse, my hero Daman is a third son, so his lot in life is pretty pitiful since his eldest brother has the title and all the holdings that went with it. Daman is a bit scandalous because he writes stage plays, but his muse and a beloved brother have recently died. At loose ends, I had his brother, the earl, send him to America to check on the Rutledge family investments. Daman rides on the Chisholm Trail and upon arrival in Kansas, he comes across a hanging. Thinking Americans are little better than barbarians for this practice, he's stunned when he sees it's a woman about to be executed.
Without thinking, he rescues the damsel in distress and takes off with her in tow. Along the way, Daman finds the muse he's been missing that inspires him to write again . . . and a deep, lasting love with a beautiful stranger.
Excerpt:
"You'll need to come with me."
Serena stared at him in disbelief. "An unchaperoned woman in a man's company? You must be insane."
"It's something the Chinese believe. If you save someone's life, you are responsible for that person for the rest of your life." Daman grinned. "I did save that pretty neck of yours."
She blushed and looked down. A protective wave swept over Daman as he looked at her profile. He began thinking aloud.
"Now how to pull it off? "How about my ward? Yes, the American cousin and poor relation who has lost her parents."
She narrowed her eyes. "I am twenty-five. A little long in the tooth for being anyone's ward."
"Hmm." Daman thought, constructing the storyline as he spoke. "Still, a cousin could work. Maybe a loving but stern aunt raised you. She died and left you a nice inheritance, but you were taken advantage of by a man who wanted the money and not you."
Serena gasped in outrage. Daman amended the story he spun.
"No, you look much too smart for that. Let's say train robbers killed your fiancé. Or wait. A bank robber. Who's that James character I've heard of?"
Daman smiled as the wheels in his mind turned. "Never mind. We can iron out the details later. We'll make you heartbroken, practically a widow. Robert could have died a week before the wedding."
"Robert?"
"You know, Robert, your dead fiancé. Now if we—"
Serena interrupted him. "For giving up writing, you have quite a fertile imagination."
Buy link:
http://www.amazon.com/Outlaw-Muse-Western-Romance-ebook/dp/B00FQ0QGZM/ref=sr_1_1?ie=UTF8&qid=1381347103&sr=8-1&keywords=outlaw+muse+lauren+linwood
Other links for Lauren Linwood:
Website   Facebook   Twitter   Blog   Amazon Author Page   Goodreads Author Page
Blurb:
Separated from her twin during the Orphan Train selection, schoolmarm Serena Sullivan searched for her brother Bill over fifteen years. Just as she gets a lead on his whereabouts, she is railroaded by a crooked sheriff and set to hang for the murder of the sheriff's best friend.
English playwright Daman Rutledge has come to the American West on business for his brother when he witnesses a woman about to be executed. On impulse he rescues the beautiful stranger and goes on the run with her across the Kansas prairie. Along the way Daman finds the muse he's been missing and loses his heart to the raven-haired beauty with haunting amber eyes.
As they try to escape the long arm of the law, Daman seeks to prove Serena's innocence before it's too late. They find love—and the truth—on a journey that changes their lives.
http://www.amazon.com/Outlaw-Muse-Western-Romance-ebook/dp/B00FQ0QGZM/ref=sr_1_1?ie=UTF8&qid=1381286293&sr=8-1&keywords=outlaw+muse+lauren+linwood