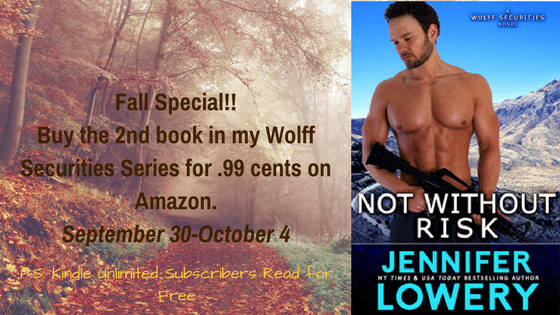 Hello fans and readers! How is everyone today? I'm great. Fall is my favorite season and in honor of that I am offering the second book in my Wolff Securities Series, Not Without Risk, for .99 cents on Amazon, September 30-October 4! Yay! Of course, Kindle Unlimited subscribers always read for free. Keep reading for buy links!
If you haven't read the first book, Maximum Risk, no worries. These are standalone books as well as part of a series. You don't have to read them in order, but I recommend it. Simply because you will get a fuller character experience by reading them in order.
As a bonus for your continued support and generosity I have including one of my favorite fall recipes. I make these muffins every year and they never last long, lol. Please enjoy the recipe and the .99 cent book!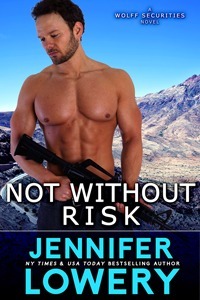 Not Without Risk Blurb:
He always keeps his promises…
Private security specialist, Nate Wolff promised to rescue humanitarian aid worker, Macy Gibbs, not harbor a fugitive. Determined to keep his promise and not make the same mistakes his brother made, he risks his life to protect her from the terrorist group hunting her.
Keeping this one will be the hardest thing he's ever had to do…
With a bounty on her head for the murder of a man who bought her in an illegal human trafficking ring, Macy Gibbs puts both her life, and the life of the tall, handsome stranger who's vowed to rescue her, in danger. Emotionally scarred from her ordeal, she trusts no one. But, can the biggest danger she's about to face be the impact this former SEAL has on her heart?
Not Without Risk Excerpt:
Nate put a hand on Macy's shoulder. She didn't stir. Unable to resist, he caressed her cheek. Warm. Not as hot. A good sign. Beneath his hand her skin felt soft as silk. He gently ran his thumb across the fading bruise on her jawline. Anger and the urge to protect and defend surged through him. Except, it felt more personal. Not just a bodyguard protecting his charge. More…
Nope. Not going there. The reasons stuck like a knife in his heart.
He dropped his hand to his side, sobered, and put his thoughts in proper order. First things first. Get Macy dressed, then grab her and go. They may not have confiscated his weapons, but that could be a ruse to keep him off guard.
His supply of clothing for Macy was running low. Only two shirts and one pair of pants left. Foregoing the undergarments, he grasped the edge of the blanket, prepared to dress her and make a run for it.
"Nate?"
The murmured question came from Macy. He froze, his gaze flying to her face to find her eyes open. Glazed, confused.
Letting go of the blanket, he leaned over her. "Hey. I'm here."
Her beautiful blue eyes that reminded him so much of Bleu Lake back home, met his, radiating with pain. "Don't leave me. Please."
The impact of those words went straight through his chest. At that moment, he knew they couldn't go. Not until she was healthy enough to go. They'd pushed hard already and look where it got them.
Bending, he pressed a kiss to her forehead. "I'm not going anywhere. Go back to sleep. You're safe."
That seemed to work because the tension went out of her muscles and her eyes drifted closed. Seconds later her breathing evened out, indicating she slept peacefully.
Nate straightened and scrubbed a hand down his face. He returned the clothes to his pack, dragged the crude chair in front of the bed and dropped down on it. His Glock now rested across his thigh, finger near the trigger as he settled in.
Whomever, or whatever, came through that door they would have to go through him first in order to get to Macy. And he'd die before he let another person hurt her.
Buy the Book:
And now for the recipe!! I hope you enjoy it as much as we do!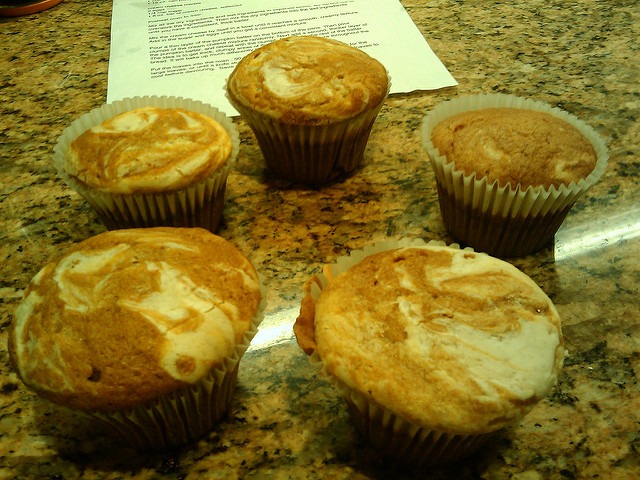 Pumpkin Cream Cheese Muffins
15 ounce can pumpkin puree (not pumpkin pie filling)
1/4 cup vegetable oil
2 eggs
1 cup sugar
1 teaspoon vanilla
1 1/2 cups flour
1 teaspoon baking powder
1/2 teaspoon baking soda
1/2 teaspoon cinnamon
1/2 teaspoon powdered ginger
1/2 teaspoon ground nutmeg
1/8 teaspoon ground cloves
1/2 teaspoon salt
Filling:
8 ounce cream cheese, softened
1 egg yolk
5 tablespoons sugar
1/8 teaspoon vanilla
Directions:
Preheat oven to 350 degrees.
Mix pumpkin, vegetable oil and sugar on low speed with electric mixer (I use my Kitchen Aid stand mixer).
Add in eggs, one at a time, combining thoroughly after each addition.
Add vanilla
In a small bowl, whisk together flour, baking soda, baking powder and spices. Slowly add to liquids, scraping sides of bowl to combine.
Make Filling: Mix filling ingredients until combined.
Fill 12 muffin cups with cupcake liners.
Fill each with pumpkin mixture.
Spoon cream cheese mixture on top and swirl with a skewer or toothpick.
Bake until done.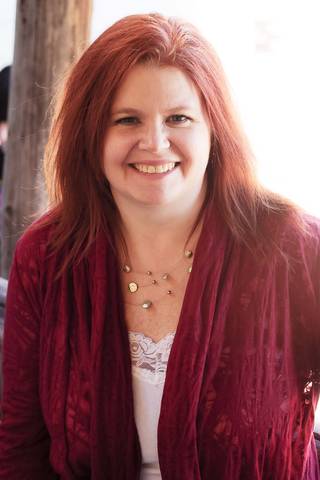 Meet Jennifer:
New York Times & USA Today bestselling author, Jennifer Lowery grew up reading romance novels in the back of her math book and on the bus to school, and never wanted to be anything but a writer. Her summers were spent sitting at the kitchen table with her sisters spinning tales of romance and intrigue and always with a tall glass of ice tea at their side.
Today, Jennifer is living that dream and she couldn't be happier to share her passion with her readers. She loves everything there is about romance. Her stories feature alpha heroes who meet their match with strong, independent heroines. She believes that happily ever after is only the beginning of her stories. And the road to that happy ending is paved with action, adventure, and romance. As her characters find out when they face danger, overcome fears, and are forced to look deep within themselves to discover love.
Jennifer lives in Michigan with her husband and charming rescued tomcat named Shamrock. Their son lives near them and is in the Army National Guard as well as a student at a local university. Their daughter is married and lives with her amazing husband who is stationed at Fort Bragg.
When she isn't writing she enjoys reading and spending time with her family.
Connect with Jennifer:
Read more about her books on her website: https://jenniferloweryauthor.com/
Join her on Pinterest: https://www.pinterest.com/jenniferlowery/
And on Twitter: https://twitter.com/JLoweryauthor
Please "like" her Facebook author page! https://www.facebook.com/AuthorJenniferLowery/
Sign up on her website with your email and never miss another update from Jennifer: https://jenniferloweryauthor.com/
Join Jennifer's Street Team: https://jenniferloweryauthor.com/
Join her on Google+: https://plus.google.com/+JenniferLoweryauthor
And Linkedin: https://www.linkedin.com/in/jenniferloweryauthor/
Follow on Instagram: https://www.instagram.com/jenniferloweryauthor/
Thank you so much for spending a few minutes with me today! I appreciate it more than you can know!
Happy Fall,
Jennifer