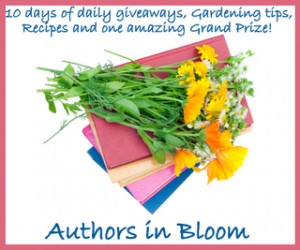 Hi everyone, welcome to my blog post on the Authors in Bloom blog hop. So happy to have you here. I love gardening, going seed shopping, wandering down the aisles of the greenhouses and looking at the flowers. It's one of my absolute favorite things to do. 🙂
So let's see, a gardening tip…
this one I learned straight from my dad who has a great green thumb. When planting plants you've purchased, dig a well shaped hole for the plant, fill to top with water, let water soak in, place plant and fill back in with dirt and pat dirt firmly around the plant and water again. Don't forget to fertilize with a good liquid fertilizer to help stimulate the roots. 🙂
For a chance to win my personal giveaway of an ebook copy of IF TOMORROW NEVER COMES, share a gardening tip of your own or one of your favorite types of plants or flowers. I admit I have a huge deep love for fuschias. They are one of my absolute favorites.
Here's the blurb and a bit of an excerpt from IF TOMORROW NEVER COMES:
Josh Collins has the perfect life—a beautiful girlfriend and a baby on the way, until an accident takes his life and he's suddenly forced to fight for everything and everyone he loves.
Alone and pregnant, Avery is suddenly faced with a painful new reality. Life without the man she loves is turbulent. Nothing feels the same any more without him and she finds herself facing the unimaginable.
With his newfound guide Gabriel, Josh is forced to learn what happens IF TOMORROW NEVER COMES.
Excerpt:
Avery walked over to the coffee table and set the box down. She lifted the top to find two dozen of her favorite peach roses nestled in tissue paper. Their sweet fragrance suddenly filled the room. As she reached for the card, that familiar coolness appeared behind her once again.
Happy fourth anniversary. Love you forever, Josh.
She could almost hear his voice in her ear, reading the words right along with her.
She dropped the card back inside the box, feeling unnerved. Her fingers moved up the stems of the roses, the surprising chill of the fresh stems on her fingertips helping her calm down.
"You never did tell me what we were going to do today," she said, as if she expected him to answer. Like he was right there with her, about to walk out of the kitchen with two glasses of lemonade in hand, his baseball cap on his head, his nose sunburned from too much time working in the yard.
"It was going to be a surprise." He moved around to stand beside her. He desperately wanted to reach out, to push that strand of hair back behind her ear so he could see her face unobstructed. He was desperate for her to feel him, really feel him, and not have to fool himself into thinking that some part of her sensed he was there, that whatever their connection was, it hadn't been completely severed. That if he just held out hope long enough…
She reached up, brushing the strand of hair out of her face before taking one of the roses out of the box.
"You know, I wanted to wait until today to tell you about the baby. Then you walked in when I had that pillow under my shirt…" She laughed softly, inhaling the scent of the rose before pressing it lightly against her cheek, a slow smile crossing her face in memory. "And I tried telling you I was just stretching the shirt because it shrank in the wash…you had this dumbstruck expression on your face, and I said I think there's something I have to tell you, and I called you Daddy."
He nodded, flashing back to that moment. "And I said, are you kidding me?"
"I guess it's good I told you then. You never would have known otherwise. That would have hurt more." She picked up another of the roses, her fingers playing with the edge of a petal. "You know, I'm even happier about the baby since you're gone. He's my last gift from you." Her voice wobbled. "My best gift from you."