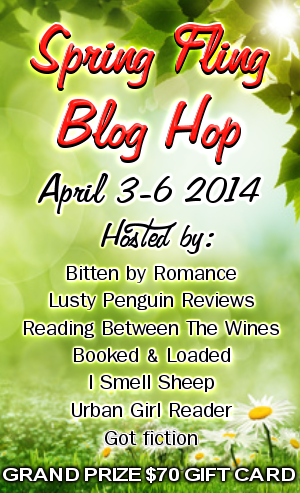 Hi everyone! Welcome to my blog post for the Spring Fling Blog Hop. Now that it's officially spring, I hope it's much more spring like where you are. Here we're supposedly getting another 5cm/2 inches of snow. Maybe I cursed things buying flower seeds this early lol
For my stop on the blog hop, I'm giving away an ebook copy of my debut paranormal romance IF TOMORROW NEVER COMES which I'm excited to say should be out in print by the end of May. So looking forward to that! To enter the contest, comment below with what you're most looking forward to about spring and please leave your email in the comment as well.
Here's the blurb for IF TOMORROW NEVER COMES:
Josh Collins has the perfect life—a beautiful girlfriend and a baby on the way, until an accident takes his life and he's suddenly forced to fight for everything and everyone he loves.
Alone and pregnant, Avery is suddenly faced with a painful new reality. Life without the man she loves is turbulent. Nothing feels the same any more without him and she finds herself facing the unimaginable.
With his newfound guide Gabriel, Josh is forced to learn what happens IF TOMORROW NEVER COMES.
***
I thought I'd share a quick interview with Gabriel, Josh's guardian from my first release, IF TOMORROW NEVER COMES. I figured he might have a great perspective of my hero Josh that Josh himself wouldn't be able to give.
Hi, Gabriel.
Gabriel: Hello. I'm happy to be here to talk about my friend, Josh.
Do you want to tell us how you met him?
Gabriel: I was there when he woke up. He was very confused at first, and instinctively I knew he wasn't going to take the news well. Finding out your dead can be a hard experience, but for him, even moreso, so suddenly in an accident like that. Leaving behind a girlfriend that he truly loved. They were going to be parents. It tore at my heart, really.
Tell us about Josh, how would you describe him?
Gabriel: Hard headed, stubborn, a rebel, but at the same time, loving, kind and loyal. Although he does have some anger issues at times.
And his girlfriend, Avery?
Gabriel: A perfect match to Josh if there ever was one. Just being around each other, there's an instant reaction. A calming, a soothing in the other. I've never seen anything like it. She could sense him, even when she shouldn't have been able to. Their connection is so unusual, so strong. Nothing, even death, could break it.
That's unusual?
Gabriel: Very. He knew what was going on with her even when others, including myself didn't. I just wish we had listened more to him. But I did eventually. He taught me that. His recklessness tended to rub off on me at times.