Ghost #BookHugs #Tirgearrpublishing #RomanticSuspense Unholy Alliance and message about friendship @RowlandKathleen
Kathleen believes a friend is kind to another's dreams. Everyone struggles, and a friend who tries to understand is priceless. When things go well, a friend shares the joy.
Blurb, Unholy Alliance:
The worst happened. Her cousin is still missing. Just released from jail for a murder she didn't commit, thanks to attorney, Grady Fletcher. Tori has no clues. No destination. Just fear for the cousin she believes is held captive by an Irish mob boss, Seamus McGinn.
What if Tori were to park a food truck in the seedy waterfront neighborhood where the mob operates and hunt for this sadistic killer? Grady must protect the strong woman he's come to adore. With emotions on a knife edge, Tori runs on instinct, on the desperation of affection between cousins. With adrenaline pumping, this is it. Tori identifies an island hideout, but Grady warns her to anticipate who her cousin is now.

Excerpt for Unholy Alliance– takes place when her attorney, Grady, visits Tori's food truck, Deep Fried to Taste, for the first time.
She'd walked out of the Gladstone Prison a decade before she'd walked in. After ten years she was free. Free because of Grady. The effects of imprisonment scarred her but also strengthened her resolve. Her heart swelled with gratitude for freedom.
She had a home in her food truck and proved in one day she could make money. She had friends who worked within two blocks of the lot. Her former cellmate embalmed at a funeral home. Down the street, Grady appealed cases of the wrongly accused, and his detective, Maeve, not only found evidence to support his efforts, but she also wanted to know if her cousin was living in terror or dead and at peace. Earlier from her office desk Maeve texted her the link for MissingWomen25to30.com. Friends Amy and Finn were a phone call away. Her parents disappeared on the day of her conviction and bought a house in Carlow, Ireland. She trusted they longed for her as she did them. She mourned the loss of her brother but worried nonstop over Vivienne.
A gaping hole in her heart ached to find her. When she did, she'd take a full breath. Her search began where it left off. Seamus McGinn, the thug who'd framed her.
What did Viv look like now? Was she using the new last name, Valentine? Fairy tale beautiful with waves of blonde hair and a rosebud mouth, her flair for adventure sometimes led to trouble with wild boys.
Grady double-arm waved at her. It was as if he were a two-dimensional character in a dream. Handsome. As upstanding as any man could be. Her legs gave way. The figure in the distance did that, and she grabbed the counter. Dizzy and short of breath, she chastised herself for holding on to the romantic notions she fantasized about a hundred times a day. She stuck her head out the window. "I'm coming out."
Grady met her on the stairs and offered a hand. The closer he got, the harder it was to concentrate on stepping down. His killer smile showed off two sexy dimples when he said, "It's noon."
"Good noon to you." She gulped. Readying herself for conversation, she took his hand, rose on her toes, and sniffed. "Hmmm, what is that? Shaving lotion? Man perfume?"
He chuckled, and a weird electric awareness went off in her chest. In slow motion, it cracked open slowly, sent out sparkly runners to forgotten girl parts, and pulsed there.
She pulled her shoulders back and lifted her chin. Their gazes locked. Her hair loosened from her bandana. "Drat, I'm a chef. Hair is supposed to stay put." She took it off, placed the center of the bandana on the nape of her neck and tied a knot on the top of her head.
He reached to help tuck the ends under. "You're so darn cute."
"Oooo, that scent. Are you going to tell me what it is?"
"Eau des Baux Eau." The warm, deep sound of his voice sent more sensations of want right through her. Behind him, the sun stretched a bit higher and seemed to shine just on him. "You like it?"
"I sure do. Vanilla. You smell like a cookie." Her heart thudded harder than it should.
"Do you like cookies?" He bent his head for a kiss.
She kissed Mr. Good Noon with the wavy reddish-brown hair and body made to lose sleep over. Her breath hitched, and she took a step back from heartbreak. No reason to set sights on a man way out of her league. The glow dimmed, and the warmth backed off. "Care to look at my menu?" She stepped closer to the blackboard.
"Now you're speaking my language. I'm starving." He raised his eyebrows and the corners of his mouth lifted. "Pimento cheeseburger corn dog."
"That's my great food mash-up."
"I can see why. It blends two favorites, the cheeseburger, and the corn dog."
All purchase links are below:
http://www.tirgearrpublishing.com/authors/Rowland_Kathleen/unholy-alliance.htm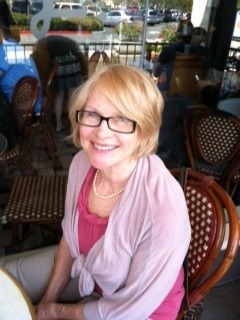 Meet the author, Kathleen Rowland, and her dark and dangerous world of romantic suspense.
Award-winning author Kathleen Rowland is devoted to giving her readers fast-paced, high-stakes suspense with a sizzling love story sure to melt their hearts. Writing a romantic suspense series for Tirgearr Publishing, Deadly Alliance is followed by Unholy Alliance. Bittersweet Alliance in the works. Keep an icy drink handy while reading these sizzling romantic thrillers.
Kathleen used to write computer programs but now writes novels. She grew up in Iowa where she caught lightning bugs, ran barefoot, and raced her sailboat on Lake Okoboji. Now she wears flip-flops and sails with her husband, Gerry, on Newport Harbor but wishes there were lightning bugs in California.
Kathleen exists happily with her witty CPA husband, Gerry, in their 70's poolside retreat in Southern California where she adores time spent with visiting grandchildren, dogs, one bunny, and noisy neighbors. While proud of their five children who've flown the coop, she appreciates the luxury of time to write. If you'd enjoy secrets behind books, signup for Kathleen's newsletter on her website:
http://www.kathleenrowland.com/
https://twitter.com/rowlandkathleen
https://kathleenrowland.wordpress.com/
http://www.kathleenrowland.blogspot.com
https://www.facebook.com/romanticsuspense.kathleenrowland/