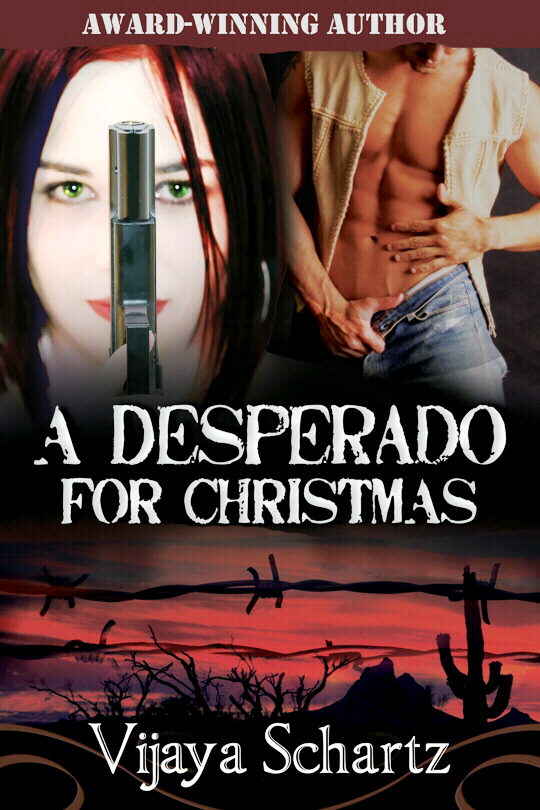 A DESPERADO FOR CHRISTMAS
By Vijaya Schartz
99cts all formats, everywhere eBooks are sold.
Not just another busy night on the Arizona border.
Rookie Border Patrol Agent Kaitlin Harrington hates Christmas and all men, since her lover jilted her and she lost her unborn child on Christmas Eve. This year, as she guards the Mexican border in southern Arizona, she encounters more than she can handle. No amount of training prepared her to arrest the gorgeous desperado who challenges her. His name is Miguel, a human smuggler fascinated by the green eyes of the feisty auburn-haired beauty bent on impeding his important work. But Miguel is a man of many secrets. And on this dangerous adventure through the Arizona desert, anything can and will happen.
"…a romantic adventure from beginning to end. Brimming with twists, secret identities and danger on every page, this is a page turner that will entertain any reader. I will be interested in checking out additional titles by this author." Joyfully Reviewed
Blasters, Swords, Romance with a Kick http://www.vijayaschartz.com
Amazon: http://www.amazon.com/author/vijayaschartz 
B&N: http://www.barnesandnoble.com/c/vijaya-schartz
FB: https://www.facebook.com/vijaya.schartz
Twitter: https://twitter.com/Vijayaschartz