For our 2nd day of 12 days of Christmas, welcome Alina Field to the blog today 🙂
Christmas in Regency England
by Alina K. Field
Thank you, Lisa, for having me as your guest today.
In my Regency novella, Rosalyn's Ring, the heroine sets off on a Christmas Eve journey to rescue a young woman. She encounters no Christmas trees dripping with ornaments, no Santa Clauses climbing down chimneys, no happy carolers singing outside villagers' doors.
Wait, what happened to Christmas in Merry Olde Regency England?
Actually, how Christmas was celebrated in Regency England is a bit hard to pin down, but it probably was not a lavish observance. Christmas in England had probably not been extravagant for many decades, since the grand celebrations of the Tudors were crushed by Cromwell and the Puritans. In the spirit of Ebenezer Scrooge, the Puritan parliament in 1645 declared Christmas a working day. Countess Maria Hubert von Staufer reports in her A Thumb-Nail History of Christmas in England that even the making of Christmas pies could be grounds for arrest.
Still, some Christmas traditions survived the war on Christmas pies and plum pudding and would have been observed during the Regency period. Decorating with evergreen boughs, wassailing, acting out Christmas pantomimes, and singing carols, were very likely part of the holiday celebration, and much more prevalent in the country where families gathered for the Christmas season.
Traditionally, landholders returned to their estates for the holiday to open their homes and host celebrations for tenants and neighbors, a practice that dates back at least to the Elizabethan era. According to historian Mark Connelly, author of Christmas: A Social History, Elizabeth felt so strongly about the custom of Christmas hospitality that she ordered gentlemen to leave London and return to their country estates to observe the holiday. Like people all over the world, the English felt that Christmas was best celebrated at home with family, friends, and food.
My heroine Rosalyn, learns the truth of this when she unexpectedly lands in the lost home of her childhood and finds her own Christmas miracle.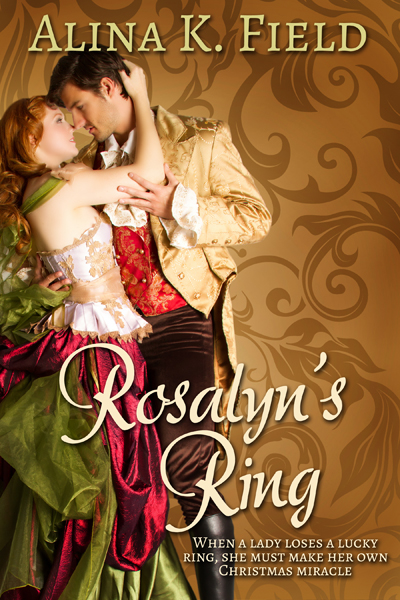 Rosalyn's Ring
By Alina K. Field
With her true inheritance lost, Rosalyn Montagu has reluctantly fallen into her elderly cousin's tidy London life of do-gooder spinster. When a young woman from the district of Rosalyn's childhood is put up for auction in a wife sale, Rosalyn seizes the chance to rescue her—and to recover a treasured family heirloom, her father's signet ring, purloined by the woman's innkeeper husband.
Intent on liberating the young wife with the money she has scraped together, Rosalyn braves a precarious Christmas Eve coach ride in the company of a mysterious nobleman. She soon finds she is not the only determined buyer attending the sale. Her rakish opponent not only succeeds in thwarting her purchase; he reveals himself as the man who took everything that should have been hers. Everything, that is, but her father's ring, which she manages to recover before being tossed out of the inn into the snowy night.
The newly anointed Viscount Cathmore has accepted there is no way to avoid living his father's dream of accession to a social class he disdains, but he has drawn the line at marrying a blue-blooded miss. Then he meets Rosalyn, a provoking beauty with an upper crust manner, a larcenous streak, and enough secrets to rouse even his jaded heart, including the truth of her identity—she is the woman whose home and inheritance he has usurped. But more mysteries swirl around Rosalyn's lost inheritance, and Cathmore is just the man to help her uncover the truth.
Rosalyn's Ring was released 7/24/13 by Soul Mate Publishing, and is available at Amazon.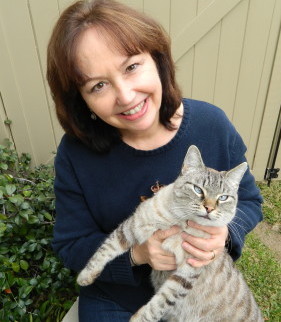 Author's Bio:
Alina K. Field earned a Bachelor of Arts Degree in English and German literature, but she found her true passion in reading and writing romance. Though her roots are in the Midwest, after six very, very, very cold years in Chicago, she moved to Southern California and hasn't looked back. She shares a midcentury home with her husband and a blue-eyed cat who conned his way in for dinner one day and decided the food was too good to leave. Visit her at AlinaKField.com.