Please welcome author Jan Meredith to the blog today for an interview and an excerpt of PLAYING DOCTOR.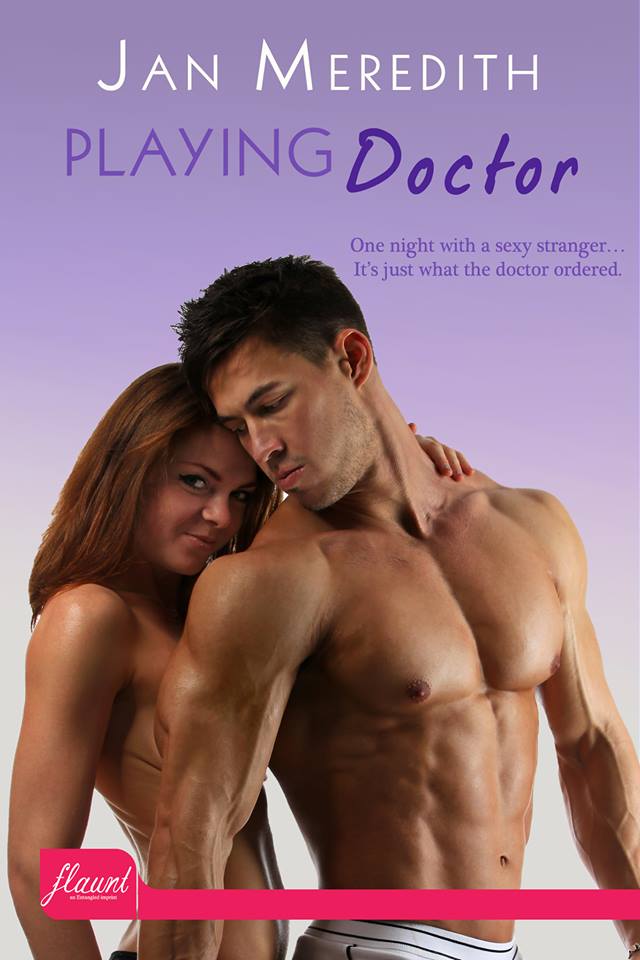 What inspired this story? Honestly? Gabe was a secondary character (who would eventually get his own story) in the book I'm working to finish now. I stumbled upon an Editor's Pitch contest Harlequin Mills & Boon was doing for their Medical Romance line. All they required to enter was a two paragraph back of the cover blurb. As I planned to do his story anyway, I wrote the blurb and entered it in the contest, never guessing that I would be one of the six chosen to pitch the book to the editor of the medical imprint. In the end, I was asked to submit the first three chapters, which weren't even written.  The end result was an awesome two-page feedback letter from the editor, and one of the most encouraging rejections anyone could hope for, along with an invitation to submit something else. Unfortunately, Gabe and Beth wanted their story told, so I took her advice, revised and submitted to Entangled. Heather Howland  asked for the full and the rest is history.
Do you have a favorite scene or character from the book? As a nurse, my favorite scene is when they do CPR on a wedding guest. We never get to say what Gabe says to a patient, no matter how much we'd like to. J As a woman, I'd have to say their second love scene.  *sighs*
Any chance of a sequel or a spin-off with one of the other characters? I'm currently working on the story for the secondary characters, Ian Montgomery and Eve Winters, titled, EDUCATING EVE, a friends to lovers story. Here's a peek at the blurb: All Ian Montgomery, Navy SEAL, wants is to get through his brother's wedding and enjoy the peace and quiet of home while his injuries heal. The last thing he needs is his pain in the ass childhood friend invading his space while her home is undergoing repairs for water damage. As kids, she was the annoying little sister he'd never had, constantly begging him to "show me how." But little Eve has grown up, and rather nicely, too, and her latest request for his tutoring services are anything but childish.
Write what you know. Easy enough, but Eve Winters, bestselling author of erotic romance has a ghost writer penning those blazing love scenes.  Her past relationships have been less than satisfying, leaving her wondering what all the fuss is about. How's a girl supposed to write something she's clueless about? What she needs is a lesson on the smexy, and there's only one man she trusts enough to do the job.
Who would your ideal cast be if a movie was made of PLAYING DOCTOR? The muse for Dr. Gabriel North began as Dustin Clare who played the gladiator, Gannicus, in the STARZ original series, Spartacus: Gods of the Arena. As the story evolved, so did his character, and I began to see Chris Hemsworth step into the light. As for Beth, she's always been a combination of Sandra Bullock and Mila Kunis.
If your book had a soundtrack, what kind of songs would be on it? Funny you should ask. Beth is a big Jace Everett fan, and two of his songs are mentioned in the book: Bad Things, and Damned if I Do. Now that I think about it, there are several songs in the book, as they're at a wedding. AC/DC—You Shook Me All Night Long, The Stones—Start Me UP, Chicken Dance, Percy Sledge–When A Man Loves A Woman. And although it itsn't mentioned in the book, Alex Clare's, Too Close played a major part in the black moment in the book. I was struggling with how Beth would say what had to be said, and driving to work one morning, the song came on the radio, and BAM, I had what I needed for the scene. I love when that happens.
Do you have any writing rituals? It is a must that I play at least one round of Bejeweled per writing session.
What do you like best about being a writer? The freedom to create.
What is your writing process like? Now that I have struggled through my first book as a pantser who finally wrote the synopsis as an afterthought, I take what I learned from doing NaNo Smackdown with Entangled Publishing last year. I do a character profile on the main and secondary characters, first thing. The second thing: What does the character want? How do they plan to get it? What's standing in their way? What is it going to take or what are they going to do to resolve it? Then I map out the main scenes related to those questions.  The other scenes that lead them to each of the main plot points are added as the story evolves.
If you get writer's block, what do you do to snap yourself out of it? I bring up all the photos in the muse file for the story, which trigger a new scene waiting to be written. I write in a patch-work style—working on whatever scene is upper most in my head at the time, then arrange them accordingly and layer in what needs to be added.
What does your writing space look like? At the moment, my writing space is a commandeered corner of my bedroom. I would love a private space with floor-to-ceiling book shelves along one wall, my desk with all the stuff I don't need on it, a comfy loveseat and my flat screen.  And as I write this, several other things come to mind, reminding me of Steve Martin's character in The Jerk as he gathers up all his stuff, saying, "…and that's all I need." I love that movie J
What's one thing that's always on your desk? A couple of note books, way too many ink pens, and a glass of water.
What would readers be surprised to know about you? That Beth's car is actually the one my husband drove when we got married, and her key ring is one I used to carry. It was actually hanging out of my pocket at Wal-Mart one day, and people kept looking in that direction strangely. I thought I had spilled something on me, so when I looked down, I was shocked (and then highly amused) to see the tag on the key ring hanging out of my pocket. It read, "My foot and your ass need to meet." Which was why the Amish couple frowned so darkly at me, I suppose.
What was the last book to be added to your keeper shelf? STYXX, by Sherrilyn Kenyon.
Do you organize your TBR pile? No. I read whatever I'm in the mood for.
*What's next for you? Besides EDUCATING EVE, I have another friends to lovers story, titled, TAKING CHARGE in the works, as well as an erotic romance about a hunky carpenter and his next door neighbor.
Blurb:
When a fellow RN jokingly predicts that Beth Roberts will meet a tall, ripped and totally lick-o-licious stranger who will fulfill her deepest desires, it's supposed to be from across a crowded room, not giving CPR to a wedding guest. Given her tragic love life, Beth has no desire to become involved again, but who could have predicted the ponytailed doctor with the mischievous smile would break through her defenses?
Dr. Gabriel North blamed himself for his wife's death. Now, after two years of battling guilt and meaningless hookups, he's ready to move on. When he sees the sexy brunette at his friend's wedding, his attraction is swift and strong, and he wastes no time in pressing his advantage. One night with the woman who makes him feel alive again isn't enough, but gaining her trust is going to take more than medical school has prepared him for.
Exerpt:
"Thank you for the drink." She picked up the glass, took a cautious sip.
"Water and lemon. I didn't know your preference, and it seemed the safest choice."
Beth watched as he lifted his glass to his mouth and drank deeply. She swallowed as if the cool liquid was sluicing down her own suddenly parched throat and wondered how the simple act of water sliding past his lips could appear so erotic. And the way he licked it from his lips—not a regular old dart-and-swish, mind you, but a leisurely swipe of his tongue, and she could almost feel the rasp of it along the seam of her…
Heat, dark and rich, infused her sex. She shifted in her chair and tipped her hips down in an attempt to relieve the ache building there, only to find it heightened the sensation.
"It's not very comfortable, is it?"
Blinking, Beth watched Gabe's mouth curl into a slight smile. When she looked up, a glint of amused hunger brightened his eyes.
He knows. He knows what he's doing to me. How freaking embarrassing! And how incredibly hot.
She cleared her throat. "I'm sorry?" Was that her voice, all breathy and sultry?
He paused, studied her for a moment, and then said, "The chair…it's not very comfortable."
Relief washed over her, quickly followed by a touch of disappointment. Had she misread him? "No, no it isn't." To prove it, Beth shifted again and crossed her legs. She groaned inwardly when the change of position rubbed her thighs and the needy territory between them together, intensifying her little problem.
"Sometimes," Gabe started thoughtfully, turning his glass in small half circles on the tabletop and drawing her attention there. His broad thumb streaked the condensation on the glass and then paused to slowly circle one small area. Beth scrunched down a little and squeezed her thighs together. "Sometimes, you have to find just the right…spot."
Clench!
"Yes, well," Beth clamped her fingers around her glass. Her toes curled inside her shoes. She shifted slightly, dragging her gaze up from the motion of his thumb on the glass. Warm, observant eyes looked back at her, full of promise and possibilities. Well. Maybe she hadn't misread him after all. "Fortunately, I won't be sitting on it for long."
"Fortunately," he agreed solemnly.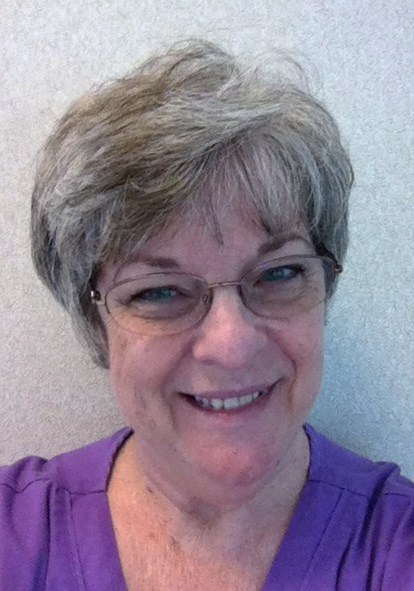 Bio:
Jan Meredith has been a romance junkie since her teens. When she isn't penning steamy stories about strong-willed, independent women and the sexy men who love them, she works as an Infusion Therapy nurse. She lives near Mammoth Cave, KY with her husband (and former high school sweet heart) Tommy.
You can learn more about her at her web site: http://www.janmeredithauthor.com
Follow her on Facebook: https://www.facebook.com/jan.meredith.121
Twitter: https://twitter.com/JanMeredith21
Buy Links:
Amazon: http://www.amazon.com/Playing-Doctor-Entangled-Flaunt-Meredith-ebook/dp/B00GETW0LI/ref=sr_1_1?s=digital-text&ie=UTF8&qid=1383774993&sr=1-1&keywords=jan+meredith
B&N: http://www.barnesandnoble.com/w/playing-doctor-jan-meredith/1117313837?ean=9781622664078