Please welcome my first author interview of 2014, Andrea R Cooper to the blog.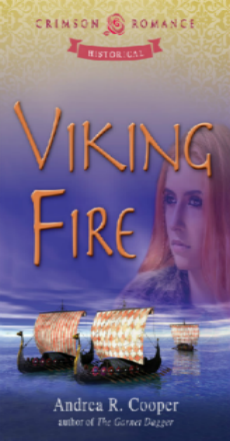 Lisa,
Thank you for having me here today.
What inspired this story?
Viking Fire was inspired by the name Lauchlin or Lochlann. I read online that some historians believe this was the Gaelic name for Viking. Since my grandmother's maiden name was McLauchlin, I was intrigued. Though, my lineage is Scottish (among many other nationalities), the magic and landscape of Ireland made me place the setting there.
Do you have a favorite scene or character from the book?
My favorite character is Bram. He is the cocky, handsome hero. Yet, he has a vulnerable side. I love the teasing that he does with Kaireen—even though she thinks she's fighting him and his attention, she is truly wrestling with herself and her attraction to him.
Who would your ideal cast be if a movie was made?
Bram – A younger Travis Fimmel or Alexander Ludwig
Kaireen – Rachel Hurd Wood
Elva – Julie Walters (in her natural silver hair)
What do you like best about being a writer?
I love discovering the characters and the story as I write. I don't do outlines or plotting. I just have an idea, a character, or a basic ending in mind. The journey the characters take from the beginning to the end is mine as well because I do not have a map. Which is opposite of how I am in real life, I love to plan and know ahead of time what I am going to do.
What would readers be surprised to know about you?
I never read Tolkien, C.S. Lewis, Terry Goodkind, or any famous fantasy/ paranormal writer until I was in my mid-twenties. Any novels, movies, etc. that had magic or mythical creatures was taboo in my house growing up–so naturally I craved them. I still have George R.R. Martin on my TBR list, and I am addicted to The Game of Thrones show.
I am also a gamer. Give me anything with magic, dragons, hack-n-slash, dungeon crawler game and I'm giddy.
What's next for you
I am working on revisions for Son of Dragons, Book Two in The Garnet Dagger trilogy. And beginning a major re-write of War of Darkness, Book Three in the trilogy. I am also adding a paranormal shift to a Native American historical romance I wrote years ago.
Viking Fire Excerpt:
"The bedchambers are upstairs."
"Lead the way, then, my lady." He grinned. His smile did not falter her resolve to be rid of him; instead, she stomped each foot on the stone steps.
"Our room." She waved her hand as she stood at the threshold.
He moved passed her and into the room. "Tis the first you admit we marry."
"No. I said no such—"
He pulled her in his embrace and she went rigid. She opened her mouth to scream, but as she drew a breath, his lips crushed hers. Tingles of warmth crept from inside her to the tips of her toes. Her mind raced, demanding she be free, while her traitorous body melted in his arms. His kiss became gentle and sparked a craving inside her for more. His mouth opened, offering her to taste secrets. She slackened against him as his tongue played across her lips, stroking, and numbing her thoughts. He did not force his way further, but ended the kiss with her lips yearning for his. Then he stepped back.
"Your lips and eyes speak of your love." He beamed at her frown. "Now I am sure of your passion for me."
"No." That was enough! He had overstepped his bounds with his prideful arrogant assumptions. "You are mistaken; I wish to never marry you." She would not fall in love with him. No matter his handsome face. She must not allow herself to acknowledge that she liked it when he kissed her. She would never be free if he became the laird over her.
"Aye, your kiss spoke more than you know." He chuckled and held her hand kissing her palm. "In time the rest of you will agree as well."
Andrea's Bio: Growing up in Houston, Texas, Andrea has always created characters and stories. But it wasn't until she was in her late twenties that she started writing novels.
What happened that ignited the writing flame in her fingers? Divorced, and disillusioned by love songs and stories. They exaggerate. She thought. Love and Romance are not like that in the real world. Then she met her husband and realized, yes love and romance are exactly like the songs and stories say. She is now a happy wife, and a mom to three kids (two boys and a girl).
Andrea writes paranormal and historical romance. When not writing or reading, one may find Andrea dancing in Zumba.
She believes in the power of change and counting each moment as a blessing. But most importantly, she believes in love.
The Garnet Dagger Book Trailer  http://youtu.be/ISi0u9LoseM
Viking Fire Book Trailer: http://youtu.be/m1bPZ3nUyzs

Facebook: https://www.facebook.com/AndreaRCooper.author
Twitter: https://twitter.com/AndreaRCooper
Author Website: www.AndreaRCooper.com
Goodreads: http://www.goodreads.com/author/show/6934877.Andrea_R_Cooper
Blog: http://andrearcooperauthorblog.wordpress.com/
Pinterest: http://www.pinterest.com/andrearcooper/
Buy Links:
The Garnet Dagger Amazon: http://goo.gl/rMEJ59
The Garnet Dagger B & N: http://goo.gl/Qp5i6A
The Garnet Dagger iTunes: http://goo.gl/s1Cugp
Viking Fire Amazon: http://goo.gl/71VAsf
Viking Fire B & N: http://goo.gl/EvBxwf
Viking Fire iTunes: http://goo.gl/fQuKBd