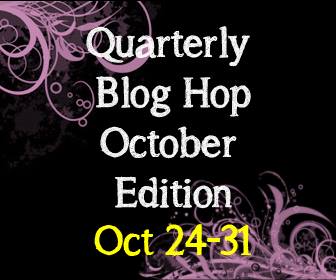 Hi all, sorry for the late posting of this. Anyways, welcome to my post for the wonderful Quarterly Book Release Book Hop. I'm giving away a couple ebook copies of my debut paranormal romance IF TOMORROW NEVER COMES and be sure to enter the grand prize draw as well for a chance to win a $55 Amazon GC (Open to international readers!) or a swag pack (ebooks for international winners, the pack for a US/CA winner!).
I'm excited to announce that the print version of IF TOMORROW NEVER COMES should be live and released just in time for Halloween!! I've been busy this month with formatting, doing a final read over to fix any tiny little errors I found and picking the perfect fonts, which surprisingly is so much more time consuming than one would think. I'm so looking forward to the print release, and making it more widely available for readers who prefer to not read on a kindle, nook, iPhone or their computer like I do.
Here's an excerpt from IF TOMORROW NEVER COMES:
Excerpt:
Avery walked over to the coffee table and set the box down. She lifted the top to find two dozen of her favorite peach roses nestled in tissue paper. Their sweet fragrance suddenly filled the room. As she reached for the card, that familiar coolness appeared behind her once again.
Happy fourth anniversary. Love you forever, Josh.
She could almost hear his voice in her ear, reading the words right along with her.
She dropped the card back inside the box, feeling unnerved. Her fingers moved up the stems of the roses, the surprising chill of the fresh stems on her fingertips helping her calm down.
"You never did tell me what we were going to do today," she said, as if she expected him to answer. Like he was right there with her, about to walk out of the kitchen with two glasses of lemonade in hand, his baseball cap on his head, his nose sunburned from too much time working in the yard.
"It was going to be a surprise." He moved around to stand beside her. He desperately wanted to reach out, to push that strand of hair back behind her ear so he could see her face unobstructed. He was desperate for her to feel him, really feel him, and not have to fool himself into thinking that some part of her sensed he was there, that whatever their connection was, it hadn't been completely severed. That if he just held out hope long enough…
She reached up, brushing the strand of hair out of her face before taking one of the roses out of the box.
"You know, I wanted to wait until today to tell you about the baby. Then you walked in when I had that pillow under my shirt…" She laughed softly, inhaling the scent of the rose before pressing it lightly against her cheek, a slow smile crossing her face in memory. "And I tried telling you I was just stretching the shirt because it shrank in the wash…you had this dumbstruck expression on your face, and I said I think there's something I have to tell you, and I called you Daddy."
He nodded, flashing back to that moment. "And I said, are you kidding me?"
"I guess it's good I told you then. You never would have known otherwise. That would have hurt more." She picked up another of the roses, her fingers playing with the edge of a petal. "You know, I'm even happier about the baby since you're gone. He's my last gift from you." Her voice wobbled. "My best gift from you."