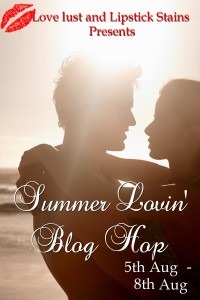 Welcome to the Summer Lovin' Blog Hop. 
Over fifty authors and bloggers have joined together to give you the chance to win an awesome bundle of books as well as read some great posts. Be sure to go to each blog  and comment with your email to up your chances of winning. Each comment counts as an entry! Our lovely bloggers are also offering individual prizes so be sure to check them out.
Three lucky commenters on my blog will each win an e-book copy of my paranormal romance
What do I like most about summer? Since I'm Canadian and live where it might as well be dubbed land of the snow for a good six months of the year, summer is the time of actual warmth and real sunshine. A chance to go outside, soak up some rays with a good book, or two, or three and relax 🙂 It's no coincidence either that I set most of my books in warmer climates, Tampa, Florida; Los Angeles, California, Las Vegas. Anything that inspires warm thoughts is good enough for me!
My characters on the otherhand, they don't tend to be the relaxing type. The summer and the heat can make them even a little more highstrung. Take for example, Arabella Hayes, vengeance demon and heroine of my upcoming release DARK INTENT. The summer heat is enough to make anyone edgy, but moreso when a deadly demon is hot on her trail.
Dark Intent excerpt:
She was about to cross a narrow alley when a leather covered arm reached out and pulled her inside. Instantly a hand covered her mouth, blocking out any sound that dared to escape muffled and barely recognizable. She struggled as best she could, channeling all her emotions into fighting off the attacker when she was spun around after delivering a swift pointed elbow to his ribs.
Ryder.
She stared wide-eyed at her would be attacker. "You son of a…" she looked at him rubbing his chest, no doubt trying to get circulation back. He was lucky she hadn't managed to bring up a fireball or he'd really be in a world of hurt.
Before she could utter another word, she found herself pushed roughly against the brick wall. With his hand back over her mouth and his body pressing hers against the coarseness of the crumbling brick, she felt the urge to lift her knee to show him what exactly she thought of this little stunt. That is, until she heard the slinking sound further down the alley that didn't quite sound human let alone demonic. Alarm filled her as she stared up at him, her body tense, becoming more rigid than a statue as the sound grew louder. What she'd give to be anywhere but there at that moment, her world, her life, anything, to be somewhere else. As if sensing her rising panic, his grip on her tightened. She ignored the jolt of electricity that even the slightest bit of contact with him created.
He was only slightly aware he was crushing her as he kept her pressed up against the hard brick wall but he'd heard definite movement. A sound he hadn't been able to identify so he'd followed his instincts and thrown her against the wall, covering her body with his in an effort to protect her. Her soft seashell pink tongue darted out and licked the top of her dry lips, fear etched clearly in her eyes. "What?" she whispered, her eyes locked nervously on his own, like she couldn't quite bring herself to look around him to see what could be there.
He knew the way he was acting, she was probably afraid it was Svatos himself.
For all he knew, it could have been. But he wanted to meld the two of them into the shadows, hoping the smoky quartz he carried in his pocket would help shield them from prying eyes. If it was a tracker who'd dropped in from above, they should be okay. It would take a cursory look around and then seeing nothing, if the crystal worked, take off again and try to pick up their trail outside on the streets.
His gaze locked on Arabella, alarm filled her eyes, asking a silent question, is that what I thought it was? He gave a small nod and immediately she tensed, her body more rigid than a statue. He concentrated on listening to the sound at the end of the alley, whatever it was seemed to be aware someone was listening as the movement had stilled to nonexistent. He couldn't risk opening his senses, since it would be like sending a flare out into the air, giving off their location and putting them in deeper danger. He dropped his hand away from her mouth. "Shhh…" The sound was barely audible, but he needed Arabella to stay as silent, as still as possible to not draw any extra attention their way. The best thing to do was distract her. Maybe not holding her hostage against the wall would help her relax a little, he could see the vein in her neck jumping with the frantic rhythm of her heart beat.
His gaze locked on her lips again and he saw a question flash in her eyes as he dropped his head lower, his lips brushing teasingly against hers.
His lips were surprisingly soft but firm, as if he was desperate to keep her distracted and keep her from making the wrong move, which would actually be any move at that point. She was afraid to even breathe, that the small sound of her gasping for breath would alert whatever was at the end of the alley to their presence.
Every emotion began to fade away as she began to give herself over to the kiss, the feel of his lips, his hands on her back. Her hands fisted in his shirt, drawing him closer and closer as the kiss deepened—a move she wasn't sure who started, but Booyah for whoever had. It was the first time she could ever say she found a man intoxicating, her eyes tightly shut as she felt him lift her off her feet, bracing her against the wall. She didn't care that the hoodie she wore had ridden up in the back and that the coarse brick was rubbing against her skin. All she cared about was the man pressed deliciously close to her, the one who was ravaging her mouth with a passion she hadn't known he'd possessed.
Vaguely she became aware he slowly lowered her back to the ground as he broke the kiss. Her lips felt deliciously swollen, slightly bruised even and she could taste a hint of the cinnamon gum he'd been chewing.
She wished he'd give her a moment to stand there, let the blood return to flowing through her entire body and not just certain parts of her anatomy. Her legs felt like jelly and she wasn't sure she could maintain her body weight for a few more seconds. Evidently though, Ryder was far from a mind reader.
"What was that?"
*****
Check out all the great blogs on the Love Lust & Lipstick Stains blog hop here: