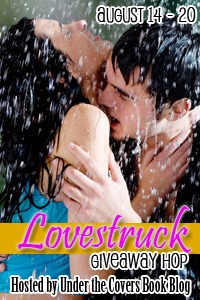 Hi everyone! Welcome to my blog post for the Lovestruck Giveaway Blog Hop. I'm giving away three copies of my debut paranormal romance IF TOMORROW NEVER COMES. This is an international giveaway. To enter, simply comment on the blog. For more entries, follow the instructions in the rafflecopter window. 🙂
What I love about my hero Josh in IF TOMORROW NEVER COMES is that he's deeply in love with the heroine, but there's really just one problem – he's suddenly a ghost. After a horrible accident, he finds himself on the other side, desperate to fight his way back to Avery and their unborn child. Easier said than done, the panel he's pleading his case in front of is cold and unfeeling, the lone woman on the panel seems to hate him and his guide, Gabriel, seems more interested in helping Josh adjust to his new life then helping him return.
Things I love about Josh, well he's willing to rock the boat when necessary. Break rules when he has to. And he'll do anything he can for Avery. Anything. Including sacrifice what he wants the most if he has to.
Writing this one was hard at times, especially Josh's side of things because he's desperate to get home. To get back to the woman he loves. But he's essentially helpless, alone in a whole new world, and only able to view things going on without him. He's not meant to interfere. Not allowed to do much more than be there. But when he sees things aren't as everyone wants him to believe, his reckless side appears. He's determined. He's going to break whatever rules necessary and deal with the punishment later to make sure Avery's okay. And his one major act of selflessness was a very, very hard scene to write.
Do you have a favorite hero or a characteristic that draws you to a hero?