Please welcome author Vicki Batman to the blog, so happy to have her here with an interview today and a great excerpt of "The Great Fruitcake Bake-off"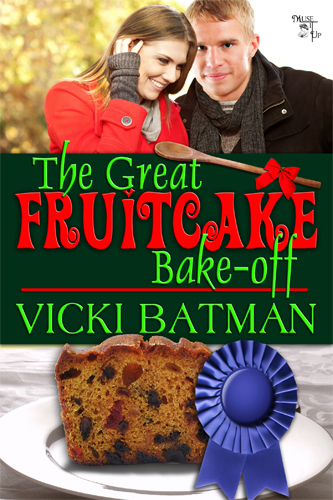 What inspired this story? Who hates fruitcake? *a bazillion people raise their hands* LOL. Not me, I love it, and especially so when dunked in chocolate (tastes like candy). And thus was born "The Great Fruitcake Bake-off," a holiday romantic comedy. Just the title has me in hysterics.  I'm hoping to make fruitcake haters into fruitcake lovers.
Which character is most like you or unlike you? I have a split personality. The heroine, Samantha Greene, is nice and sweet. Her best friend, Bethany, is sassy and has funny lines. Together, I'm both. LOL
What is your writing process like? I work out every day, clean up, eat toast and milk, pop open a diet Coke and sit in front of my monitor. I check emails, Facebook, Triberr and help with my marketing group. If any fires are flaming, I put them out, then open the story I'm working on. I'm good for a long stretch, eat lunch, and run errands. Back torturing characters until 5-ish.
What would your dream writing space look like? I am a lucky girl! When we remodeled eight years ago, I carved the downstairs guest room into my room. My desk sits in front of a window which looks out to the front lawn and street. I have a brown leather love seat and matching chair nearby. All my covers hang in black frames on the wall. I have a fun lamp made from a silver plated pitcher. Behind my chair are four bookcases, and yes, they are filled to the top!
What's next for you? Many things! In February, my third short and sassy indie book comes out, Bug Stuff…and Other Stories. I'm working on two more parts in my "I Believe" paranormal romance series. An essay for the Sisterhood anthology will be published next spring. And I just sold to The Wild Rose Press my big book, a romantic mystery, Temporarily Employed. Can I say I'm in love with the hero?
Here's a fun excerpt from "The Great Fruitcake Bake-off":
"I am not entering this year." I pinned an unbreakable stare on Bethany, my long-time friend. We were piddling over coffee in her cubical like we always did before getting to the nuts and bolts of company business. "Period."
"Why not, Samantha? You should be proud to be the five-time winner of the Great Fruitcake Bake-off. You're a legend."
"Is being a legend in the fruitcake world a good thing? It's exhausting finding the perfect recipe, then bake and exhibit it. Besides, shouldn't somebody else win?"
Bethany's fists went to her hips. "Sam, we're talking fruitcake. It's not groundbreaking like, like the Declaration of Independence or…the Pyramids."
"I'm shocked to hear you say that. Fruitcake is the cake of all time. It dates to–"
She bobbed her head. "To the sixteenth century."
I raised my finger. "It gets a bad–"
"Rap." She sighed a soul searching blow of breath. "You always say that. You also always say you love participating; yet, you're not defending your title this year."
"I've used up all of Grammie's recipes."
"You could start over with the first confection you entered five years ago, couldn't you?"
"It seems like cheating…in a weird way. And I don't cheat."
"You are a shining example of excellent values." Bethany drummed her fingers from the littlest to the index and considered. "I've got it! Why not check online and find a recipe?"
"They don't call you brainchild for nothing." I rubbed a finger along the divot below my lower lip. A tiny speck of excitement blossomed within me. "I'll need a brand new fruitcake. I wouldn't want to be like Crazy Wanda who enters the same freakin' lump of dough every freakin' year."
"It never hurts to expand your repertoire, even if it's by collecting fruitcake recipes."
Find "The Great Fruitcake Bake-off" on December 1 at MuseItUp Publishing: http://museituppublishing.com
Find Vicki at: http://vickibatman.blogspot.com
Thank you so much for having me today!