Welcome Martha O'Sullivan to the blog today. So glad to have her here talking about her love of California.
My love affair with California began at the tender age of fifteen and continues today, three decades later. So it should come as no surprise that the book of my heart, which somehow turned into a trilogy, is set there.
Maybe it was the indescribable thrill of a Midwestern girl seeing the ocean for the first time (we have a lake in Chicago, but it's not the same). Or the sight of unapologetically bronzed coeds with movie-star teeth driving silver metallic convertibles and playing volleyball in the sand. Perhaps the towering palm trees swaying against the impossibly blue sky?  But that was in Southern Cal; my Chances trilogy takes place in Lake Tahoe and San Francisco, hundreds of miles north.
I was an unassuming only child of the 70's, growing up in a place where a short, precious summer turned into a long, cold winter seemingly overnight. What else was I to do but read (thanks, Carolyn Keene)?
In high school, I often opted for the city bus because it stopped in front of the library. Just a branch, mind you, but they had loads of paperback books. And no matter the inventory du jour, I was drawn to the revolving wire rack of romance novels. Harlequin Presents, Danielle Steel and later on, Nora Roberts.
The books took me to places all over the world where effortlessly beautiful, wonderfully flawed heroines were swept off their feet by dynamic, irresistible heroes. I preferred the books to the afternoon soaps because I could imagine the characters in my mind's eye. And if I found the ending disappointing or abrupt, I would simply continue the story in my head.
Writing such ideas down, however, took another thirty years.
In the interim, I went to college and met my own prince charming. And he took me to San Francisco on our honeymoon.
And, as cliché as it sounds, that's where I left my heart. Well, part of it anyway. Because eight years and two babies later, he took me to Lake Tahoe for the very first time.
And my frisson with California moved even farther north.
I hope my books will take you there. And you'll leave a little piece of yours behind too.
October  marks the release of my second novel, Chance Encounter, the second installment in my Chances trilogy. We can all think of books we couldn't wait to finish, yet at the same time didn't want to end. That's how I felt aboutSecond Chance; I wanted to continue the story through another set of eyes.
In Second Chance, star-crossed lovers Brian Rembrandt and Lindsay Foster get a second chance at love. And their wedding beneath the twinkling stars of Lake Tahoe serves as the perfect backdrop for another match made in heaven. But it's more complicated than that…
The last thing Delaney Richards was looking for at college roommate Lindsay Foster's wedding was love. The long hours at the office were finally paying off–she could all but feel the vice-presidency in her bones. And she was counting on this week in San Francisco to seal the deal. But first she had to get through the wedding–Delaney's first since her own. Almost wedding, that is. You can't have a wedding without a groom.
Renowned ladies' man Mike Savoy hadn't counted on seeing devastatingly beautiful Delaney Richards again at his best friends' wedding in Tahoe, let alone find himself falling in love with her. Now he has to convince her the feeling is mutual–and unfailing. But the past can be a killer. And the only way Mike can ensure a future with Delaney is to push her away. But when blackmail turns to ransom, Mike is the only one who can save her. To survive, Delaney must trust the heart that once betrayed her.
Travel with me from the fawn-colored shores and sapphire blue waters of Lake Tahoe to the gray cotton-cloaked skyline and serpentine streets of San Francisco and fall in love all over again.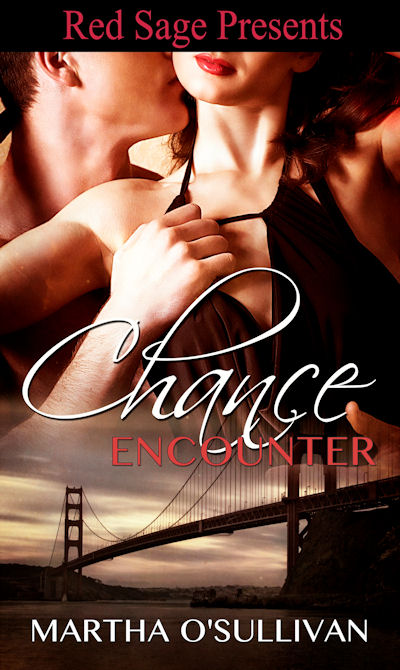 Here's an excerpt from Chance Encounter,
Mike watched Delaney's eyes sweep the repetitive-hued room, then the terrace. The double doors were open, allowing the breeze to raise the curtains puddling on the Gainsboro-colored carpeting. Beyond the silhouette of the city was framed in black filigree.
"You wanted a balcony," he reminded her smugly.
She turned to him in openmouthed wonder, then walked through the living room and outside. Her fingertips brushed the back of the cushions on the wrought iron chairs as she made her way to the railing. "I don't know what to say."
He followed her. "Say you'll stay here with me tonight."
She studied him in bewilderment, as if the question was absurd. "Of course I'll stay here with you. I'll go anywhere with you."
Because she loved and trusted him, he inwardly amazed. He brought her hands to his lips and kissed them. "I know how hard it is for you to trust someone again. I won't let you down, I promise." He hesitated, then decided the time had come. "I love you, Laney."
He watched her eyes fill and mouth tighten as she bit back the tears. Then she choked, "I love you, too. I love you so much.  And I'm so scared."
Mike let out an overdue breath. "So am I. I've never loved anyone before."
"Neither have I."
He jolted back a little, nonplussed.
She shook her head from side to side purposefully. "That wasn't real love. I know that now. That part of me didn't exist before you." She fell into him and the tears sprung from her eyes, dotting the collar of his white shirt.
Looking upward, he gave silent thanks. Then he said, "And as if that isn't enough, my family loved you too."
He felt her collective sigh. "They did?"
"Yes, of course. Why wouldn't they?"
"For one thing, I was worried about was being compared to the other women in your life."
"That's impossible. There's no one for them to compare you to. Not that they would anyway. My family isn't like—"
"I didn't mean that way," Delaney demurred.
"Let me finish, please." Suddenly agitated, he raked a hand through his hair and began to pace on the tiny terrace. "There is no one for them to compare you to because I've never introduced them to someone like you before. Occasionally I've brought a woman, a date, a friend, to family gatherings, but never the same woman twice. Sometimes we wouldn't even stay the evening, let alone," he glanced at his watch and confirmed his suspicions, "until midnight."
She started to say something, but he thwarted it with his palm. "You're right. There have been many women in my life, in my bed. Very few have met my family. None of whom I've given jewelry, missed when we're apart for a few hours, thought about constantly, and rearranged my schedule for." He returned to her. "And most importantly, loved."
Her eyes were shining, dancing now. "You rearranged your schedule?"
Mike was beside himself. "Out of all that, the schedule was what you got?"
"No. I got the loved part at the end."
"Laney," he whispered with jagged breath. "Of course they loved you. I knew they would. What's not to love?"
She laughed away the words. "Oh, I can think of a few things."
"I can only think of one."
Dismay replaced the goodwill in her eyes and her brow crinkled. "You can?"
"Yeah," he declared evenly. "Loving each other isn't enough for me."
He watched the color drain from her face. "It's not?"
"No." He raised their joined hands. "I want you to belong to me. I want to belong to you too."
"I do." She tripped over the words. "I thought you already did."
"I mean for good." He stoked her cheek with the back of his fingers, knowing he'd been sure all along. "I mean forever. Can you see yourself loving me forever?"
She gasped, and with a measured nod managed, "Can you see yourself loving me forever?"
"I know I can. I know I want to. I want to make love to you tonight and every night for the rest of my life. You and only you."
She seemed to believe him for the first time. "I want that too," she gushed. "I could never be with another man now. I couldn't bear for you to touch someone else."
"I won't," he promised, cradling her chin in his hands. "Ever. I'm not asking you tonight. I won't rush you. I just needed to know if—"
She quieted his lips with her forefinger. "The answer is yes. Whether you ask me tonight or ten thousand nights from now."
Indescribably happy, Mike tasted her tears, then rested his forehead against hers. "That will have to wait until I can ask you properly. However," his mouth found hers again and began to feed, "there is something I can ask you tonight."
She tilted her head back as he showered her throat with kisses. "Hmm. What would that be?"
"I want to taste you. I want you to taste me too."
That seemed to surprise, then intrigue her. She righted her head and found his gaze with wide eyes. "You can do anything you want to me." Her tone was dark and full of challenge. "I'm yours, remember?"
He could do nothing but mumble her name, willing his moral compass to hold steady.
Her ensuing words made that nearly impossible. "You'll be the first man to touch me that way. Now I wish you were the only man to touch me at all."
Mike swallowed the shock and wondered if she could feel him hardening behind the zipper. "As long as I'm the last."
She responded by silently backing up into the bedroom and reaching behind her. A second later the dress fell to the floor. "I've been waiting all night to show you what's under my dress."
He supposed the foghorns still boomed from the bridge, the seals continued to bark on the pier, the cars buzzed along on the street below. But Mike's mind discounted all that. In his head, his hands were already running down Delaney's tawny shoulders. They lingered at the curve of her breasts before pausing on her svelte waist and then resting on her willowy hips.
And his cock wasn't far behind.
He shut the French doors behind him and loosened his collar.  "I've been waiting all night to see what's under your dress."
"I told you," she tantalized. "Didn't you believe me?"
He cast aside his suit coat. "Oh, I believed you. That's why I've been waiting all night."
By mid-stride, he felt himself being yanked under her spell. By the time he reached her, his hands felt claw-like against the buttons of his shirt. Hers, on the other hand, were as agile as a cat's. "You seemed oddly patient." She wended her slender fingers down the shirt, holding him with a wolfish smile all the while. "I was beginning to wonder."
"You'll never have to wonder about that." Tipping point reached and passed, he grabbed her wrists. "If I'd had my way, I would've taken you in the elevator." He ripped the shirt off before she could finish, busting the two bottom buttons in the process. He made quick work of his pants, then lassoed her waist. Seizing her mouth, he straddled her to his middle. Her delta felt as hot and wet as her mouth tasted.
And he couldn't wait to prove it.
My trilogy of contemporary, erotic romances began releasing in September from Red Sage Publishing. Second Chance, the trilogy opener, is a reunion/love triangle romance that keeps the shores of Lake Tahoe blazing hot long after the sultry summer sun has set. Chance Encounter, the trilogy's second installment, heats up San Francisco's chilly days and blustery nights with white-hot passion and pulse-pounding suspense. And in Last Chance (November 1), the conclusion of the trilogy, the snow-packed Sierras melt into lust-fueled puddles despite the single-digit temperatures of the Northern California winter. Please visit my web site atmarthaosullivan26.wix.com/marthaosullivan for excerpts, reviews and more.
Bio: 
Martha O'Sullivan has loved reading romance novels for as long as she can remember. So much so that she would continue the story in her head long after the last chapter was read. Writing her own novels is the realization of a lifelong dream for this stay-at-home mom. A native Chicagoan, she lives her own happy ending in Florida with her husband and two daughters.
Links:  The Chances trilogy by Martha O'Sullivan. Available at: