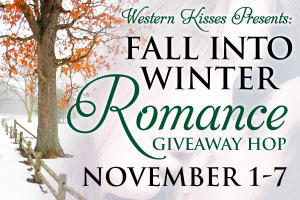 Welcome to my blog post for the FALL INTO WINTER ROMANCE GIVEAWAY HOP. The grand prize is a $50 amazon.com gift card. For my blog stop I'm giving away three ebook copies of my debut paranormal romance IF TOMORROW NEVER COMES.
First, let me say that the timing of the FALL INTO WINTER Blog Hop is apt, given we just got our first sprinkling of snow the other day, and according to the weatherman will have ten inches of the fluffy white stuff by the end of the weekend. So it will be a picturesque day or two that could likely resemble the pic for the blog hop and then, well, not so much as the temperatures go back up for a few days.
But one of my favorite things to do on a cold wintery day is curl up with one of my favorite fuzzy blankets and a good book — a good drink is also a must.
What's your favorite book & drink combo to curl up with on a cold day? I'm partial to hot chocolate on the really cold days, don't forget the marshmallows. 🙂
Excerpt:
Fresh from her doctor's appointment with her new best friend, Blake, she'd asked him to go to the cemetery right after. She'd felt a pull to go to Josh, to be able to talk to him like she used to. She knew she'd shocked him with her request, but she hadn't been ready to go home yet. For some reason, after seeing the baby for the first time, she just needed to be where Josh was, even for a few minutes.
They walked in silence up to the spot where Josh was. "I'll give you some space." Blake squeezed her hand and started to walk away.
The bench the guys had bought had already been installed. A simple slate gray granite with a back rest. She brushed the dust off the bench and sat down, her eyes locked on the spot where the headstone was going to go. How could she go from an hour ago seeing the life they'd created, listening to the racing heartbeat to being here, with this being as close to Josh as she'd ever get again.
She kept trying to picture the headstone that would rise above his grave, the angels carved into the stone. Blake had showed her the picture of what they'd ordered that morning. She couldn't imagine his whole life summed in a handful of words. Beloved Son, Brother, Friend. Four words that didn't come close to the truth.
Didn't capture what they'd all lost.
She rubbed the back of her neck tiredly. She hated thinking that one day she'd bring their son there, that this was as close as he'd ever get to his father.
"Are you here, Josh?" Everything was so still all of a sudden, like the world had gone silent waiting for her to speak. Part of her wished she'd see him walking towards her. Even if it would just be her imagination playing tricks on her, she didn't care.
"I guess I'm hoping you're here, that you're somewhere, and you can hear me." She smoothed the coat over her lap, picking at a loose thread on the seam. "Today was the second doctor's appointment. Baby's fine." She stopped and took a deep breath, daring another glance over. Why didn't it feel real? Shouldn't it have felt real if he was really gone? A sigh fell from her lips. "So the baby's fine, perfect health apparently. Even got the first baby picture." She pulled the small photo out of her jacket pocket, straightening out the small crease that had appeared since she'd put it there a short time earlier. A breeze went by, calm and gentle. "You were right, it's a boy." She put the picture down on the bench beside her. She pressed the picture down as a strong gust of wind came up, the corner of the sonogram lifting like someone was trying to lift the photo out from under her fingers. She smiled, wanting to somehow believe that it was Josh trying to get a look at his son.
Josh sat down beside her on the bench, his fingers next to hers on the sonogram picture. He didn't know what to feel. A mix of elation and sadness tore through him. A boy. He'd known it somehow from the very first moment she looked at him sheepishly, saying there was something she had to tell him. He remembered the way her voice had faded out once he heard her say pregnant. The way he'd pulled her on his lap and hugged her so tightly, so happy, so full of love at that moment. He'd thought he had everything he'd ever want and need right there in his arms.
He pulled his fingers away from the photograph, his gaze drawn towards the grave for a moment. It was strange to have his own name staring back at him from a headstone, knowing that there was a chance, the slightest chance that this could all be erased in a moment, that it would be nothing more than a bad memory burned into his mind for all time.
"Don't cry, please, Avery…" His eyes stayed on the sonogram. The first pictures of his son, the son who would never know his father. "I was supposed to come back to you…today…baby, I failed. I couldn't make them understand how much I need you. How wrong this whole situation is." He shut his eyes. "They don't know how much the two of us lost…" He shook his head. "The three of us," he corrected himself. Two people who meant the world to him, and he'd never get the chance to meet one of them. To know what it was like to hold his newborn son. He bowed his head, wishing he'd somehow been able to make them understand. Couldn't they feel his pain, her pain? The anguish that never seemed to leave him at all.
Praise for IF TOMORROW NEVER COMES
"If Tomorrow Never Comes is by far the best ugly cry book I have ever read! This incredible love story has ripped my heart out and has left me a massive pile of crying goo. Oh yes, it is THAT GOOD!"
"a heartbreaking and heartwarming story all wrapped into one"