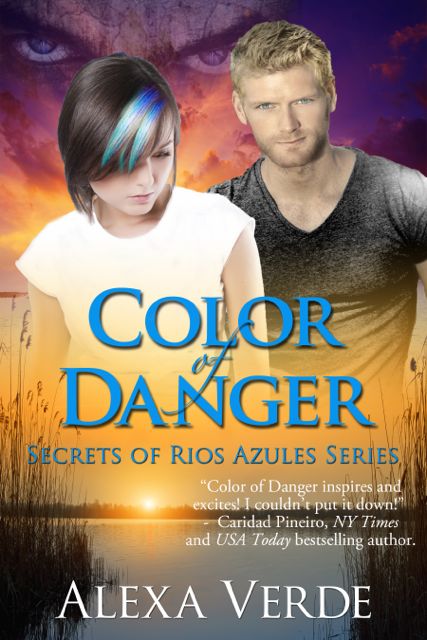 Excerpt of Alexa Verde's Debut release COLOR OF DANGER available now on amazon.
Luke approached the road Mari was taking at ninety degrees. Her motorcycle was dashing between cars. His jaw dropped. Was someone after her?
Saying a quick prayer for her safety, he floored the gas pedal and came to the intersection at full speed.
Ignoring the red light, he turned to the right, wedging himself into traffic before the oncoming car. Angry honking exploded behind him. But he could only concentrate on Mari's figure that was rapidly disappearing in front of him. With no opening to his left, he passed the car in front of him by driving on the shoulder. Now he had a duet of honking cars. Shrugging it off, he moved to the left, afraid she was running away from somebody. But what if it was her usual way of driving?
He turned on his left blinker, and the car in the passing lane slowed down, letting him in, probably the driver figuring it was safer anyway. He repeated the maneuver several times and arrived at The Café's parking lot.
Mari's lanky figure was moving toward the entrance. He jumped out of his car and gave chase. He caught up with her before she reached the door.
"What was it?" He was breathing hard. "Was somebody after you? Or do you like riding between cars?"
"I do." She turned around.
He clenched his teeth. What was she thinking? "You were putting yourself and other people in danger!"
"But I haven't done it for an adrenaline rush in forever. And not this time. Somebody tried to run me off the road. I had to get away."
Cold ran down his back. "How do you know?"
"Something about the way he was trying to hit my motorcycle might have given him away." Mari placed her hands on her hips, but her lower lip trembled slightly. "The guy was wearing dark glasses, a gray T-shirt, and a cowboy hat. Not much to go on. He was driving a black SUV with tinted windows."
The same type of car that had rushed out of the hospital parking lot the night before. "Did you get the license plate number?"
Teasing sparks danced in her eyes, and her lip wasn't trembling anymore. "Nope. I was too busy trying not to be run off the road. I'll text Aidan about it regardless. By the way, I have doubts now you're the one threatening me. You couldn't be in SUV and your car at the same time."
"Thanks. I think." He heaved a sigh of relief. "I don't believe you helped Antonio to kill those girls. And I'm sure you didn't kill June."
"Because I was at The Café at the time. You checked my alibi, didn't you?" She narrowed her eyes.
"That, too. Do you trust me now?"
"I don't have much choice. We have to find the murderer before he kills somebody else, me included. One more thing. I probably overreacted at home," Mari said.
Luke opened his arms, and she accepted his embrace. He stroked her short hair, so soft under his fingertips, and her fragile shoulders, and his heart melted. How was it possible that in such a short time she'd become so important to him? Her fight was his fight now.
"I'll keep you safe," he whispered.
Mari was still alive, and he'd gained some of her trust back.
Probably just in time. It seemed that with Mari every extra day she lived was already a victory.
Links:
Buy Link on Amazon:
$20 Amazon GC giveaway: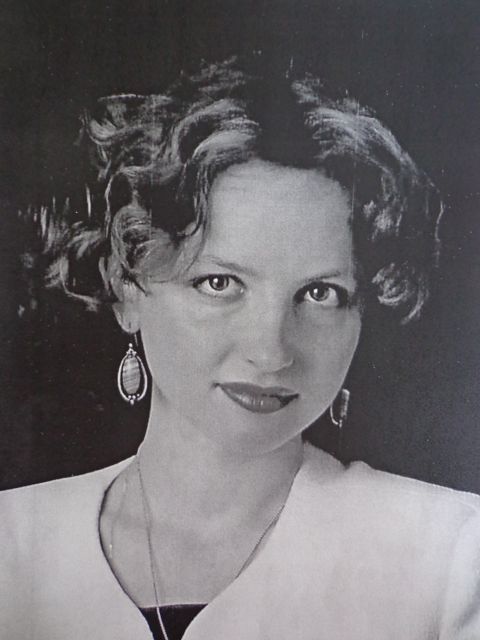 Alexa Verde
fell in love with writing at age eight when she penned her first poem. After publishing 200 short stories, poems, and articles in the five languages she speaks, Alexa has turned her creative passion to writing novels. Her May 2014 debut inspirational romantic suspense, COLOR OF DANGER, is the first in her Secrets of Rios Azules series—set in a fictional small Texas town where rivers and emotions run deep and the richest family in town has a taste for fine food, jewelry, and murder. For news, recipes, giveaways, and more, please visit
www.alexaverde.com
.
Former runaway Mari Del Lobo works hard to save her struggling restaurant and to trust people again. Dallas surgeon Dr. Luke Goodman turns her world upside down with terrifying news. A recent murder has her late brother's – aka the Smiling Killer – signature and MO. When attacks on her escalate, Mari fights her growing attraction to the good doctor as fiercely as she fights for her life. To rescue herself and those she loves, will she be able to stop the murderer before he strikes again?
Luke couldn't save his fiancée from the Smiling Killer, but he'll do anything to prevent more murders, even ask help from the serial killer's sister. Finding a kindred tortured soul and the perpetrator's next target in Mari, Luke is determined to protect the stubborn ex-rebel. But Mari would rather face danger than risk the safety of the man she comes to love.