On the ninth day of Christmas, Kaye Spencer stops by the blog to share an excerpt of her story in the Exquisite Quills Holiday Anthology.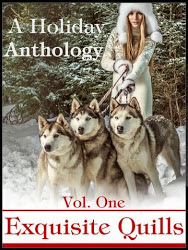 Holiday Anthology – Kaye Spencer's Depression Era story #Equills #BYNR
Exquisite Quills, an international author group, is offering a winter holiday-themed anthology of 15 short stories by 15 different authors. This anthology is not only a compilation of great curl-up-with-cocoa-and-read stories, it is a FREE download on Smashwords. The stories, although geared for adult interests, are 'family friendly'.
My contribution is GIFTS TO TREASURE. It takes place during the height of the American Great Depression. The hero is one of countless men hopping freight trains for a free ride from somewhere, going nowhere. With a road stake of fifty-nine dollars and thirty-one cents, he feels rich compared to the tramps and hobos he's fallen in with.
Two Hundred Word Tiny Teaser:
He'd make it on his own and never go back home. They could spend the rest of their lives wondering if he was alive or dead. After all, they didn't want him. No one did.
Well, that door swings both ways.
Fists clenched against the constant, gnawing loneliness, he leaned his head back and closed his eyes. Try as he would, he couldn't keep his heart from waging war with his pride to go home. Leave it be. Think about what the future may bring, not about crawling back for their mercy.
He had money enough for room and board as long as he found work within a couple of weeks. A couple of months ago, he'd chanced upon a discarded rucksack with a moth-eaten wool blanket stuffed inside. Now he could carry more necessities than he'd been able to in his bindle.
He didn't like it, but he saw the irony of being the only son of one of the wealthiest men in the world who was thankful he owned a pocket knife with sharp blades and a menagerie of odds and ends that made his vagabond life a little less unpleasant.
Not much to show for all his years living the high life.
***
GIFTS TO TREASURE is a heart-tugging, feel-good read rich with possibilities for a longer story, which I plan to write in the coming year.
Thanks, Lisa, for inviting me over today.
A Holiday Anthology – Vol. 1 – Exquisite Quills is available for FREE download at Smashwords: http://www.smashwords.com/books/view/374815
Watch the book video on YouTube: http://youtu.be/yTph6-UV7mg
Until next time,
Kaye
Fall in love…faster, harder, deeper with Kaye Spencer romances
Twitter – @kayespencer