For the seventh day of our 12 Days of Christmas, please welcome Cara Marsi to the blog.
Thanks for having me today, Lisa!
What inspired this story?
I love the Hallmark Christmas movies. My husband does too. We watch them together, and he even cries at some of them. I wanted to write a heartwarming story similar to those, but very sensual. And who doesn't love Christmas and happy-ever-after?
I have a second Christmas story, too, that was released in 2012, a short story, A Cinderella Christmas, which is a take on the classic fairy tale. A Cinderella Christmas is a 2014 finalist for an EPPIE, an award given to excellence in digital books.
Do you have a favorite scene or character from the book?
My favorite character is Jake Falco, the hero. He had a bad upbringing, but he's overcome that. He's always worshipped the heroine from afar. Now he has his chance with her, but he's hiding a secret that could tear them apart. And he's darn sexy!
How did it compare to writing your other books?
Some books are easier to write than others. A Groom for Christmas came very easily to me. Maybe because it's about Christmas traditions, family, and love.
Any chance of a sequel or a spin-off with one of the other characters?
Yes, I may do a marriage-of-convenience story with Graceann's two best friends, Kate and Zach. The way I explain them in my story is that they don't like each other, but sparks fly whenever they're together.
Who would your ideal cast be if a movie was made?
Jake would be played by the very sexy Tom Mison, who plays Ichabod Crane on the hit TV show, Sleepy Hollow. He's not your grandmom's Ichabod Crane. He looks like my Jake. And Graceann would be played by Amy Adams. She's sweet, vulnerable, sexy and a little bit playful.
If your book had a soundtrack, what kind of songs would be on it?
It would have to be classic Christmas songs.
Do you have any writing rituals?
None. I've very disorganized.
What do you like best about being a writer?
I get to write the books I like to read and to make up characters who are real with some of the same problems we all have, but who are a little bit bigger than life, put them in situations that are dangerous or merely dangerous to their hearts, and watch them fight for the happy endings they deserve.
What is your writing process like?
I write an outline so I know where the story's going, then once I start to write, the characters take over and I toss the outline.
If you get writer's block, what do you do to snap yourself out of it?
I walk, either around the house or around the neighborhood. Or I eat chocolate, drink red wine, and watch TV.
What would your dream writing space look like?
A huge place that's neat with room for everything and no boxes of books on the floor, a room that looks out to mountains and the Southwest desert. Since I live on the East Coast of the U.S. I have no desert or mountains, just a small room overlooking a tiny rose garden. And the top of my desk is a disorganized mess. I have boxes of books on the floor.
What's one thing that's always on your desk?
A cute little box shaped like a cat. It's whimsical and makes me smile. There are days when the writing isn't going well and I need that little kitty. Not to mention my real kitty who likes to sleep in the office at my feet.
What would readers be surprised to know about you?
I'm a TV junkie, and proud of it.
Do you organize your TBR pile?
No, it's a mess. Now I've got a TBR pile in the bookcases in my office and on my Kindle.
What's next for you?
I'm participating in an anthology of five marriage-of-convenience short stories with four other romance authors. One of our authors has almost 30 books with Harlequin and is a RITA nominee. Another has a dozen books with large publishers. Our stories will encompass the time periods from the early 1800's in Ireland to present day in the U.S. We're calling it The Marriage Coin because a magical coin figures in each story. We plan to publish it by Valentine's Day, 2014.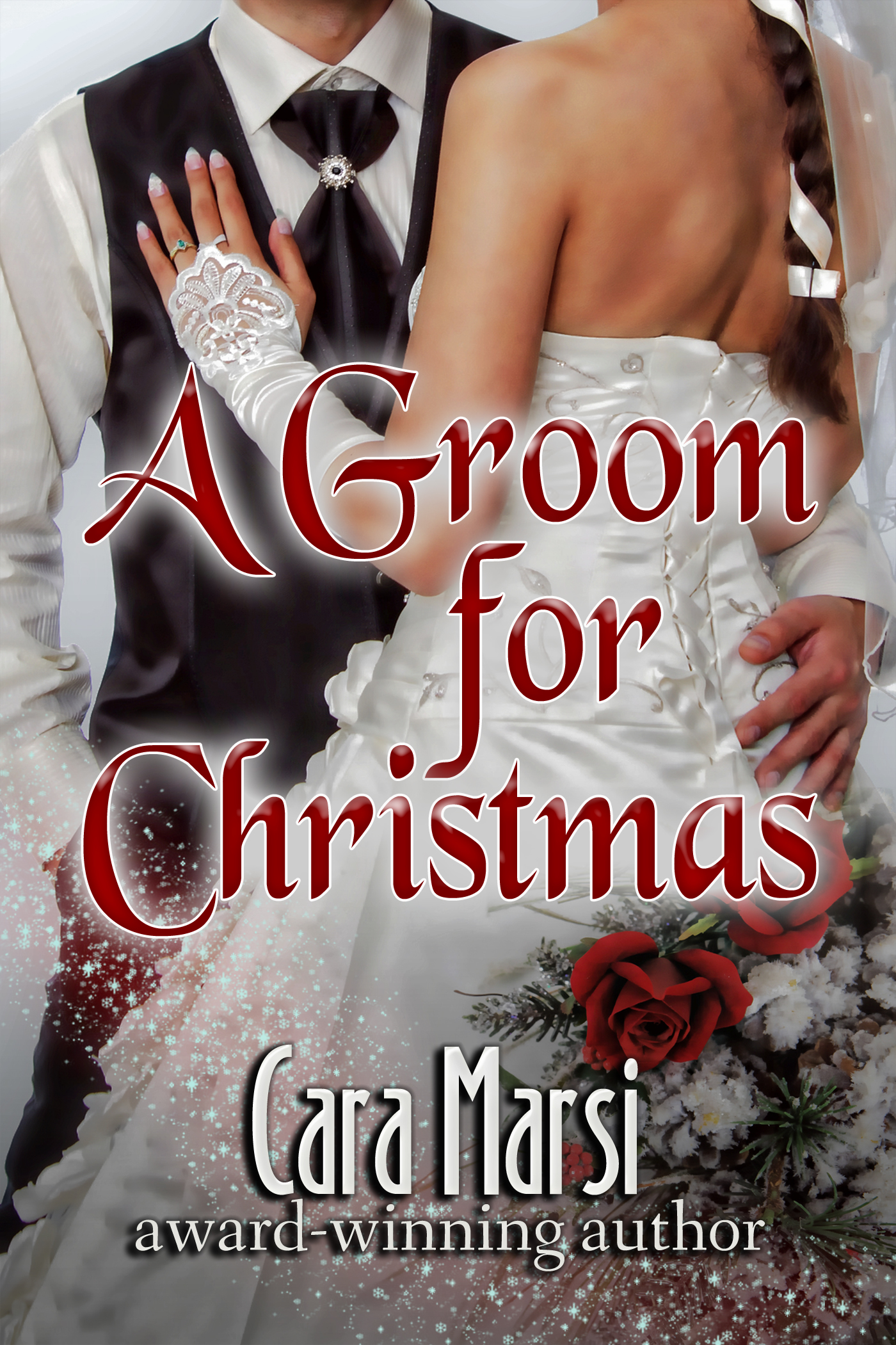 Here's an excerpt from A Groom for Christmas:
"I have two days to find a fiancé." Ignoring the anxiety that tightened her stomach, Graceann Palmer dipped her fork into her apple pie à la mode and slipped the tasty treat into her mouth.
Her friend Kate sat next to her at the counter in the quaint fifties-era Spirit Lake Diner, located just outside the small Pennsylvania town of the same name. Kate grinned. "You could advertise online: Fiancé wanted for Christmas. Good pay. Temporary position."
"Like I'd get a real upstanding guy that way," Graceann said.
Kate shot her a sympathetic smile. "Face it. You'll have to tell your family you lied."
Bing Crosby's I'll Be Home for Christmas flowed from the jukebox, mocking Graceann. Her lie had caught up with her. She would come home for Christmas, minus a made-up fiancé.
Graceann finished her pie and pushed the plate away. "Tell my family the truth and have my mom try to fix me up with someone like the dentist she invited to spend the holidays with us last year? Boring, conceited, and he couldn't keep his hands to himself. Yuck."
The door opened, bringing in a fresh round of cold, snowy late December air. Shivering, Graceann drew her sweater closer around her.
"I wouldn't mind finding that under my Christmas tree," Kate said.
Graceann followed her friend's gaze to the tall man who'd just entered the diner. Dressed all in black—black motorcycle boots, black jeans, black leather jacket—and walking with the lithe grace of a panther, he took a seat at the other end of the counter. She studied him while he studied the menu. He had classic "bad boy" written all over his features—sharp cheekbones, dark stubble on a square jaw, and midnight black hair tied into a ponytail. Long, tapered fingers held the menu.
Suddenly, he looked up. Clear blue eyes connected with hers. Recognition spiked through her and sent her pulse jumping like a kid on Christmas morning.
"The Falcon," she whispered.
"What?" Kate gasped. "You're right. It is The Falcon."
His full lips tilted in a slow, sexy grin, showing even white teeth. He nodded at them before turning his attention to the waitress. After he gave his order, he didn't look in their direction again.
Kate gripped Graceann's arm, her fingers digging into Graceann's flesh beneath the heavy sweater. "Wow. The Falcon. I heard he left town the day after his graduation from Spirit Lake High fourteen years ago and hasn't been heard from since."
"Wonder what he's doing back here," Graceann said. In school, she'd had a crush on The Falcon even though he was two years ahead of her. She'd never told anyone, not even Kate.
"He's a little scruffy," Kate said.
"Scruffy, my tush. He's hot."
Kate grabbed her arm again as Graceann lifted her coffee mug. Coffee sloshed over the sides onto the counter. Setting the mug down, Graceann gave her friend an exasperated look. "What?"
"I have it," Kate said. "Your fiancé."
"What are you talking about?"
"The Falcon. I'll bet he'll pretend to be your fiancé. After Zach bowed out, you said you'd be willing to pay someone. The Falcon always needed cash. Do it. Ask him."
"You're crazy. I haven't seen him in fourteen years. He could be a serial killer for all we know."
Kate shook her head. "He's not. We would have heard." She leaned closer. "You'll be at your grandmother's with the whole family. You'll be safe. Your grandmother is old-fashioned. She'll put you in separate rooms. It's not like he's a total stranger. Bring him to meet the family, pretend you're wildly in love. Your mom will quit trying to fix you up. After the holidays you won't ever have to see him again. Once you're back in New York, you can tell your family you broke the engagement. That's what you planned to do with Zach."
Graceann put a hand up. "This is the craziest idea you've ever had, and you've had plenty. I can't ask this guy to go along with my scheme. I'll have to resign myself to fending off another loser my mom pushes at me. She means well, but she won't accept that I'm not interested in marriage. After what Michael did, my whole family feels sorry for me. I don't want or need their pity."
"Michael was a jerk. He didn't deserve you. Listen to me, Graceann. Ask. The. Falcon. What could it hurt to at least ask?"
"His name is Jake, and I'll think about it."
"Don't wait too long. He'll be out of here and you'll have missed your chance."
Graceann sipped her coffee and stole glances at Jake Falco. Maybe Kate was right. Jake had always been nice to her and had even come to her aid once when the mean girls were harassing her. He might help her out now. At her grandmother's, they'd be surrounded by family. She wouldn't be alone with him. Her gut feelings were usually on target, so she'd learned to listen. She'd ignored her instincts with Michael and look how that had turned out. Something was telling her to go ahead and take a chance on Jake.
"I'll do it." She stood before she lost her nerve.