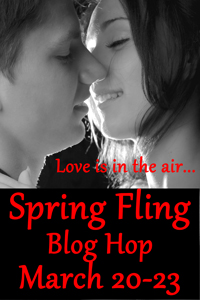 Hi everyone, welcome to my blog post for the Love is in the air…Spring Fling Blog Hop! I hope you're enjoying more spring like weather where you are. I am apparently due for snow flurries today, must be because I just got some flower seeds on the weekend 🙂
For my personal giveaway I'm giving away 2 prizes, 1 ebook copy of my debut romance IF TOMORROW NEVER COMES (or as I refer to it Ghost meets It's A Wonderful Life) and 1 eArc copy of my upcoming dark paranormal release, DARK INTENT.
Both are two very different stories, one, IF TOMORROW NEVER COMES has been called more of a love story, a story of second chances, of coming of age and a hero's journey. Josh and Avery are already in love and headed towards getting engaged when the story begins, and it's more of a test of if Josh can and will find his way back to her. DARK INTENT is very different, Arabella is a vengeance demon and Ryder is a demon hating bodyguard type. Normally he wouldn't go near Arabella unless it was to get rid of her, but the demon after her is the same one who destroyed Ryder's life fourteen years ago and that pulls Ryder into her life like a magnet.
My question to enter the contest is: do you prefer books where the couples already know each other even a little or where they're complete strangers when the story opens?
Note: Please leave your email address in your comment so  you can be notified if you are a winner.
Here's the Grand Prize list:
1 Kindle Fire (Donated by Blushing Books)
1 $75 Amazon (or B&N) Gift Card
1 $25 Starbucks Gift Card (Donated by Sue)
1 $25 Blushing Books Gift Card (Donated by Patty)
1 $25 Loose Id Gift Card (Donated by Cara)
Check out other great blogs on the blog hop listed here: www.hopswithheart.blogspot.com