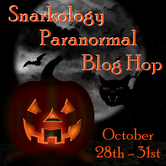 Welcome to my blog for the Snarkology Paranormal Blog Hop. For my giveaway, I'm giving away an ebook copy of my debut paranormal romance IF TOMORROW NEVER COMES. Be sure to work your way through the hop for more chances at winning the grand prize of one $60 Amazon gift card to be chosen via Rafflecopter
October means Halloween which equals ghosts or in my case, ghost movies. I love a good ghost movie, but confession, I'm not that great about scary movies. Aside from a few (I Know What You Did Last Summer, Valentine, Scream) I haven't seen any and really don't want to. Nope, I prefer my ghosts more on the comedic side of things. So below, find my top list of fun, 'feel good' ghost movies.
In no particular order:
Topper – With Cary Grant & Constance Bennett.
A wealthy couple die in a car accident and deciding that a good deed will get them to heaven, decide to help their banker, Topper. Hilarity ensues.

Haunted Honeymoon – With Gene Wilder, Gilder Radner & Dom DeLuise

Beetlejuice – Starring Michael Keaton and Geena Davis, a classic from the 80s.

The Ghost Breakers (1940) – Bob Hope, Paulette Goddard
Mary Carter inherits her family's ancestral home, located on a small island off Cuba, and, despite warnings and death threats, decides to take possession of the reputedly haunted castle. She is joined by radio broadcaster Larry Lawrence who, believing he has killed a mob gunman, flees New York with his butler, Alex. Once on the island the threesome enter the eerie castle and after viewing the ghost of one of Mary's ancestors and fighting off a menacing zombie, they find the key to the castle's treasure but are interrupted by an all-too-human foe.

The Cat and The Canary – Bob Hope, Paulette Goddard – A mysterious house, a power outage, a reading of a will and someone murdered? Perfect. Add in some hidden passageways, a few attempts and it's a fun mystery.
Ten years have passed since the death of millionaire Cyrus Norman. Relatives gather at midnight in a creepy old house for the reading of his will whereupon the local prison guard arrives to warn all assembled that a homicidal maniac known as 'The Cat' has escaped and could be heading for the house…

What about you, what do you prefer to watch on Halloween? Did I miss a fun ghost movie in my list?