Very happy to welcome author Nell Dixon to my blog today to share an excerpt of her brand new release, RADIO GAGA.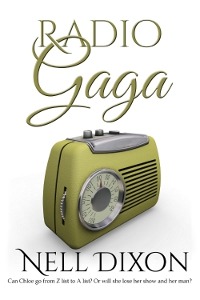 Thank you for inviting me today! Radio Gaga is a fun chick lit suspense set in the world of local radio. Challenge Chloe is her boss, Mervyn's brainchild to get more listeners. Unfortunately the challenges he thinks up for Chloe are not quite what she had in mind. This is not a good thing when she's an accident magnet!
Over the airwaves everyone can hear you scream!
Radio researcher and part-time presenter Chloe Lark is certain her big show biz break is just around the corner. Live it Up radio may not be the big time, but surely – one day soon – fame will come her way. And, if she could convince the hunky guy next door to give her a chance, her love life might improve too.
Ex-soldier Ben isn't sure if his new 'Z' list celebrity neighbour is crazy or on medication. Either way he's looking for a quiet life out of the spotlight. The last thing he needs is an accident prone media hungry blonde complete with mystery stalker. Problem is – Chloe doesn't seem to have received that particular memo…
I heard my mobile ringing inside my flat as I unlocked the front door. Dropping my bag of goodies down in the hall I rushed to answer it before it could divert to voice mail. I have this thing about not missing phone calls, a kind of Pavlovian reflex to pounce on the receiver the minute the phone rings.
"Lark, just the person." I don't know who else Mervyn thought would be answering my phone. Merv is my producer at radio station. He's also an ex-boyfriend. In my defence I only dated him twice and that was two times too many. Actually most of the women working there count Merv as an ex. He's had more romantic liaisons than I've had bars of chocolate, and I've eaten a lot of chocolate.
"Steph came up with this super idea for your slot on Monday."
"Great." It's hard to talk through gritted teeth. Steph is the morning show presenter, blonde, petite and perky and Mervyn's latest squeeze. She's also why I got bumped into filing reports on local events and recordings of my Larking About slot. The morning show had originally been promised to me except 'Up with the Lark' was binned in favour of 'Cereal with Steph'. There's no love lost between me and Steph and her suggestions for my slots were usually pretty shitty.
"You are going to love this one, Lark. There's a charity abseil down the Castle wall of the old keep and we've entered you as our representative. You are going to be holding the flag for Live it Up radio and raising money for cancer research."
My stomach did a flip and my semi-digested Crunchie threatened to make a return. "Merv, I'm sure it's a wonderful idea but you know I'm scared of heights."
Scared was an understatement. I'm petrified.
"We're going to promote it all weekend on every show. We've already got four hundred pounds in pledges." Mervyn carried on talking as if he hadn't heard what I'd said.
"What do you mean; you've already got four hundred in pledges?" Oh God, they'd already started publicising it.
"The listeners are really responding well. I've emailed you all the details and Steph will carry your reports on Cereal with Steph, then when you do the abseil we'll follow it through into Mornings with Matt."
"Mervyn, I can't do it. I can't even stand on a chair let alone fling myself over the side of a bloody castle!" I'm pretty sure I shrieked the last bit at him.
There was a brief pause.
"Lark, this means so much too so many people. It's for cancer research. Think of all those little bald kiddies," he wheedled.
© Nell Dixon 2013
Available from – http://www.amazon.com/Radio-Gaga-ebook/dp/B00BK7TY7C/ref=pd_rhf_gw_p_t_1_GS4P
And http://www.amazon.co.uk/Radio-Gaga-ebook/dp/B00BK7TY7C/ref=pd_rhf_gw_p_t_2_6E46
You can find Nell on Facebook – http://www.facebook.com/nelldixonauthor
Twitter – @NellDixon
Blog – http://nelldixonrw.blogspot.co.uk/
Website – http://www.nelldixon.com