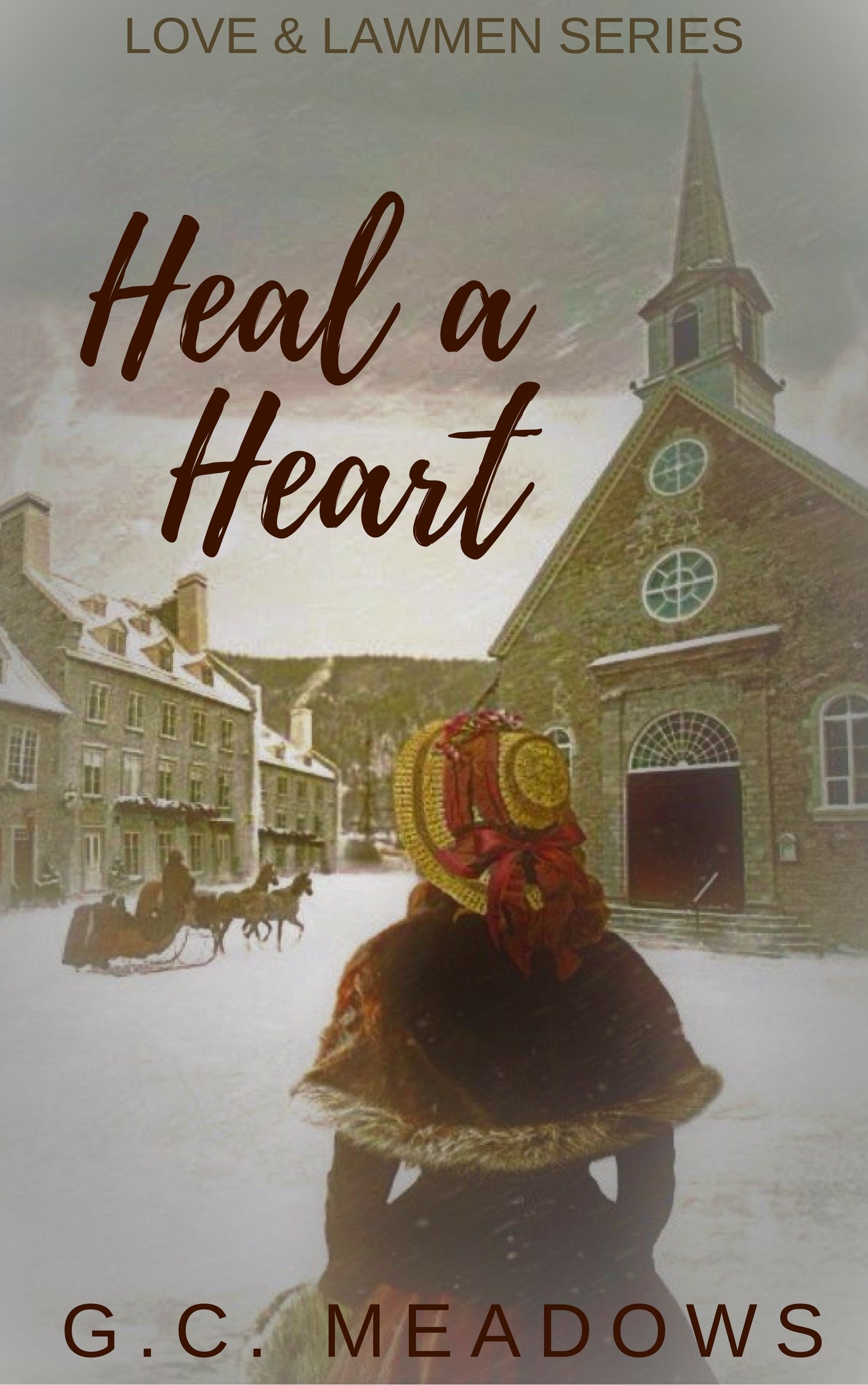 #BookHugs #HealAHeart
Blurb: Heal A Heart
Lexi Donovan boards a train and cowardly flees to her grandmother's home in Louisville when her crush, Cooper Grayson, returns to Bardstown from San Francisco and immediately seeks her father's permission to court her after she's already accepted an engagement ring from her best friend, Silas Reilly. She returns to town with a new husband, Luke Weston. A shot rings out during their picnic together. The two men who claim to love her are both suspects.
Excerpt
Soon after Cooper was gone forever, Lexi permitted her relationship with Silas to develop into a serious commitment. When she turned seventeen in March, he presented her with a small diamond ring and asked her to marry him. She only agreed after he promised to wait until her next birthday for the wedding to take place. She would have a year to get used to the idea of matrimony. Eighteen seemed an appropriate age for her to become a wife.
Silas first needed to seek her father's permission to court her and kept finding an excuse to put off their talk. He, of course, was scared to death of Heath Donovan's legend. Her father stood about a head taller than most men. At the young age of nineteen, he witnessed a much older fellow leer at her mother and determined the once-over was inappropriate for a married woman. The situation escalated into a fight in which he knocked his opponent out cold with one swift punch from his large fist.
The men in town did not dare cross him after the altercation. Silas' grandfather was a good friend and had once commented to her fiancé, "I pity the poor boy who ever falls for the fair Lexi. I'm sure Heath will kill any male who has the gall to glance his daughter's way."
Silas had given Lexi the ring over four weeks prior. She kept it safely hidden in a box inside her top dresser drawer. He promised to speak to her father that very day. She traveled along as he made a trek into town for some supplies to make certain the conversation took place. He planned on the long-awaited visit as soon as he escorted her home. She hoped he would finally be able to follow through.
Cooper, of all people, was outside his family's general store, and Lexi spotted him coming her way. Before she could react, he took her in his arms and planted a passionate kiss on her lips that she never wanted to end. She stared into his magnificent blue eyes. Too much time had passed since their last coquetry. She suddenly realized how much she longed to see him again.
He beamed a giant grin as he spoke. "Lex, you are definitely a sight for sore eyes."
Lexi had always wondered what it would be like to lock lips with Cooper. Now she knew. The kiss was utterly amazing.
Silas cleared his throat. The sound forced her back to reality and made her remember the man who she shared a commitment with. She pulled away brusquely and unleashed a scolding.
"Cooper Grayson, you've been gone a whole year, so I suppose you wouldn't know Silas and I are a couple. I'd appreciate you showing more respect in the future."
Readers may purchase Heal a Heart at:
Author Bio for G.C. Meadows
My love for writing started with poetry and short stories in elementary school. The past seven years have been spent harnessing my vivid imagination into three series of contemporary and historical romance novels. My books are meant to entertain and promote love, the greatest emotion known to human kind. Even through trials and tragedies, including a murder or more, the heroines in my tales always have a happy ending (or happy for now until the sequel) with a man they profoundly love.
For more information about G.C. Meadows and her books, please click on the following links:
Facebook | Twitter | Pinterest | Blog | Website
You can meet the author in person during the Celebrating West Virginia Author's Event on Sunday, October 29 from noon until six p.m. at Crossroad's Mall (5475 Robert C. Byrd Drive), located within a few miles of the heart of Beckley's shopping and restaurants.
Message from G.C. Meadows
Reading and writing are pursuits I have enjoyed since early childhood. I dreamed of starting a book for many years before actually putting pen to paper (more accurately fingers to keyboard). Finishing that first book, and now others, helped make my life more fulfilling. Do not live with regrets. Reach for the stars. Your fondest wish may come true.