Author Draven St. James stops by on the 4th day of Christmas for an interview.
What inspired this story?
Fire and Mistletoe was inspired by a desire to expand upon Grey's Hidden Fire. The two main characters, Grey and Mica still had more of their story to tell. I really enjoyed being able to delve more deeply into not just their characters but also the others at Firehouse Six.
Any chance of a sequel or a spin-off with one of the other characters?
Actually, it is my intension to write a whole series from the Firehouse Six group of sexy men. The next one will be Simon's story and then Taber's. I really love writing books that have the potential to expand by having other character's stories told. I think it helps the reader connect more fully to the characters themselves.
Do you have any writing rituals?
I write primarily at night and early in the mornings. So, my writing ritual always includes either coffee or tea. When I pause in my writing my hand naturally reaches out for my mug of steaming tasty goodness. It revives me. I prefer cloudy or stormy weather when I write.
If you get writer's block, what do you do to snap yourself out of it?
I'm always working on multiple books. So when I get writer's block I just switch over to a different WIP. It helps have a cast of characters to work with. One can never get bored when surrounded by so many stories in various states along the path to love.
What would readers be surprised to know about you?
Before dedicating myself to writing I performed psychological profiles for the criminal justice system. I worked with a great many sane and insane individuals. It was quite an eye opening experience. Then I went back to school and received a degree in English to go with my degree in Psychology and thought it was time to switch to a more uplifting career path.
If you could have a dinner party with six people, dead or alive, real or fictional, who would you invite and why?
There are too many to limit it to six. I'm afraid I'd just have to throw a huge party and invite all the authors and readers who make working in this field so fun and amazing.
What's next for you?
The next big thing is my book coming out on Christmas Eve! Fire and Mistletoe is a continuation (although it can be read as a stand alone), of Grey's Hidden Fire.
When Greyson Hayes envisions the perfect first Christmas with Mica Cruz he sees twisted sheets, a bottle of wine and a roaring fire. What he doesn't see is a holiday spent with the uproarious Cruz family. Grey hasn't taken part in a family Christmas since the death of his parents. Despite his misgivings, he can't seem to form the word no when it comes to Mica.
Mica knows that Grey's not a grinch. Hell, the man shares so much Christmas cheer during the holidays that he leaves no time to experience any for himself. Not this year. Mica plans to make a few changes, starting with a few wicked and whimsical gifts. He enlists the help of his co-workers at Firehouse Six. They band together and strive to provide Grey with the same joy he gives to everyone else–with five a.m. tree hunts, strategically placed mistletoe and Mica playing Santa's not-so-little helper.
But while Mica is busy being nice, Grey has plenty of time to be naughty…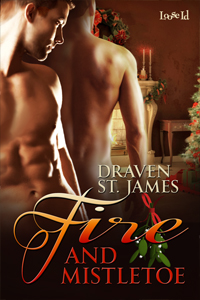 Excerpt:
For Mica, there was nothing better than starting the day watching Grey saunter shirtless around the kitchen, preparing him breakfast. Grey's only clothes were a pair of sweats that hung so low on his hips Mica couldn't help but be amazed they didn't slide off. Hell, that was what he anticipated happening.
Such an event would truly be the beginning of a merry Christmas. Mica sat on a stool next to the island at the center of the room to continue his ogling.
"Stop objectifying me," Grey said before looking over his shoulder and smiling.
"You like it," Mica teased. The muscles of Grey's back flexed each time he reached for a spice or stirred the eggs. His hair was wet from his shower and glistened with shades of gold and cinnamon in the overhead lighting.
"I may like it, but you need to eat, and then I have to work. If you're lucky, when your double shift is over, I'll entertain those dirty thoughts I know you're having."
"Oh, now that's promising. How about we compromise for the moment? Drop your pants and bring on the food." Mica leered comically at him. Grey's face became an adorable shade of pink. He loved that even now Grey had his shy moments. There were so many things Grey did that made his life more complete, both at home and at work, because he was lucky enough to work and play with his lover. He'd met Grey when he'd made the best decision of his life and transferred over to Firehouse Six.
It also didn't hurt that the man was a fantastic cook. He pivoted to stir the scrambled eggs, and Mica moved to stand behind him. With a deep inhale he breathed in the intoxicating, spicy scent that always clung to Grey, and nuzzled his face against Grey's neck. He wrapped his arms around him, tracing his fingers along Grey's abdomen before pulling Grey fully back against him.
"Are you sure you can't fit me in before breakfast?" Mica whispered and nipped his ear playfully.
The vibrations from Grey's moan resulted in an answering hardening of Mica's cock.
"You are the worst tease," Grey admonished.
"And you're so damn practical."
Grey shifted around in Mica's arms and grinned. "That is one of the many things that you love about me." He ran his fingers through the damp strands of Mica's hair. "As it is, because of our shower time, I'm already going to be late."
Mica trapped Grey against the counter and gave in to the temptation of Grey's soft lips. Grey's hands tightened in his hair and drew him away.
"Before you, I was always on time."
"I exist to create fun chaos in your life." Mica wiggled his eyebrows.
"I see evidence of the chaos," Grey murmured with a pointed look. "Not just in my life either."
"No, we settled this." Mica framed Grey's face with his hands. "You always work over the holidays. This year you're mine."
Grey sighed and looked to be gearing up for another long dialogue about how the guys depended on him to cover their shifts and how the holidays would be ruined if he didn't.
Mica pressed his fingertip to Grey's lips. "I want you with me for the holidays. My family will love you, and you'll have fun."
"Mica, I haven't really enjoyed doing—"
"Babe, we discussed this, and I know it isn't your first choice of Christmas options, but we will still be back to do all the volunteer activities. I promise." Mica brushed his thumb over Grey's lips before leaning in for a soft kiss. "Besides, if you're good and do this for me, then maybe I'll do something fun for you."
"Is that right?"
"Of course, I don't know how it will compare to the little surprises you have in store. I saw the bag this morning." He pulled back to meet Grey's twinkling amber gaze.
Grey shrugged. "I have no idea what you're talking about," he replied, his eyes wide with mock innocence. Any trace of annoyance seemed to vanish, and Mica hoped that was the last of it. Grey turned to finish scrambling the eggs that had begun to burn.
"I call bullshit. I saw what was in that bag. Looked like something from that adult store down the road," Mica confessed. The store sold all things erotic, from videos to sex toys.
"Maybe it isn't for you?" Grey countered.
"It had better be for me." Mica jokingly glared at Grey.
"Have a smidgen of patience. Christmas is right around the corner."
Mica stepped away from Grey and put his hands on his hips. Grey rotated to face him. The man was too attractive for his own good. Every time Mica saw Grey, all he could think was how lucky he was they had been brought together. Of course, all his cock could think about was how quickly they could find a flat surface.
"Fine, you win this time," Mica said, eyes narrowed. "But I have high expectations for after my shift."
"I'll be surprised if you don't just fall asleep on me." Grey laughed.
Mica had to work a double, but not even that would keep him from slipping into bed with Grey and showing him how much he missed Grey on those long shifts. Ever since they had come out to the guys at work, they had tried to keep their interactions with each other professional. It was a little easier given they had all the time in the world to satisfy their frustrations outside of work.
"When have I ever done that?" Mica asked.
"There's a first time for everything. Maybe I should take care of myself while you're gone," Grey threatened and slid his free hand down to rub his shaft through his pants, putting on a show for Mica.
"Now who's the tease?" Mica walked off toward their bedroom to get dressed before breakfast, and briefly glanced over his shoulder. "Payback is a bitch, babe."
"But so much fun."
Links:
Facebook: www.facebook.com/draven.stjames
Blog: www.dravenstjames.wordpress.com
Twitter: www.twitter.com/DravenStJames
Pinterest: www.pinterest.com/dravenstjames
Email: Dravenstjames@gmail.com